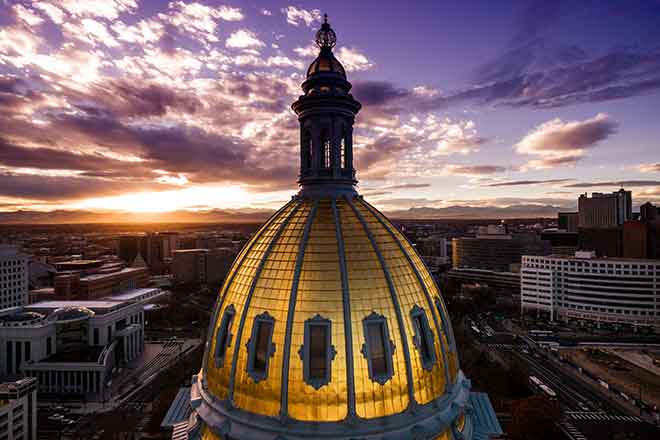 Published
Wednesday, September 8, 2021
(The Center Square) - A total of 170 new laws went into effect in Colorado Tuesday, addressing topics ranging from stolen firearms to financial literacy in education.
The bills were passed during the 2021 legislative session without a "safety clause" which would allow them to become effective immediately under the state law. The state constitution allows voters to file referendum petitions against bills without safety clauses within 90 days of the legislature adjourning to put a challenged bill on the statewide ballot a for a vote. This deadline expired on September 3.
According to the 2021 bill digest, no bills were referred to the ballot in 2021. Just one bill was sent to the ballot in 2020 and 2019, respectively.
One bill that went into effect is House Bill 21-1012, which requires the Department of Regulatory Agencies to determine whether to expand the state's prescription drug program.
The program is cost-neutral in 2021 but could cost Colorado over $600,000 in tax revenue if the program is expanded in 2022, according to the bill's fiscal note.
The bill is sponsored by a bipartisan coalition of Sens. Don Coram, R-Montrose, and Brittany Pettersen, D-Lakewood, and Reps. Janice Rich, R-Grand Junction, and Kyle Mullica, D-Northglenn.
Another more controversial bill that went into effect is Senate Bill 21-078, which requires gun owners to report lost or stolen firearms to the police. Gun owners who fail to abide by the law can be held liable for any crimes committed with the lost or stolen weapon, according to the bill.
It was sponsored by Sens. Sonya Jaquez Lewis, D-Longmont, Jessie Danielson, D-Wheat Ridge, and Reps. Tom Sullivan, D-Centennial, and Leslie Herod, D-Denver.
"Responsible gun ownership starts with knowing where your guns are," Jaquez Lewis said in a statement. "This law will save lives."
The bill was one of five bills passed to address gun violence during the 2021 session. Senate Republicans like Jim Smallwood of Parker previously criticized SB21-078 for failing to address actual gun violence, as the bill purports, according to a report by the Associated Press.
House Bill 21-1200 also went into effect Tuesday. The bill requires the Department of Education to implement a financial literacy curriculum to teach students about credit cards, mortgages, and investing, among other topics.
The bipartisan bill was sponsored by Sens. Jeff Bridges, D-Greenwood Village, and Paul Lundeen, R-Monument, and Rep. Cathy Kipp, D-Fort Collins.
"Right now, the majority of Colorado school districts do not include personal finance education in their core curriculum," Bridges said in a statement. "With this law we're helping students to make smart financial decisions that will set them up for success for the rest of their lives."