Image
4 earthquakes, including a magnitude 4.3, overnight in southern Colorado
Four earthquakes struck overnight Thursday into Friday in western Las Animas County according to the United States Geological Survey.
The first, measuring 4.3 on the Richter Scale, occurred shortly after 11:00 p.m. Thursday roughly 10 miles west of Trinidad, or about 70 miles south of Pueblo, at a depth of just over one mile beneath the surface. The mountainous area is northwest of Lake Trinidad and Trinidad State Park.
A second nearby quake occurred at 1:40 a.m. Friday. That earthquake measured 2.8 and was about four miles below the surface.
The next quake, measuring 2.5, was recorded at 2:43 a.m. approximately three miles west of the original quake and was roughly three miles beneath the surface.
Image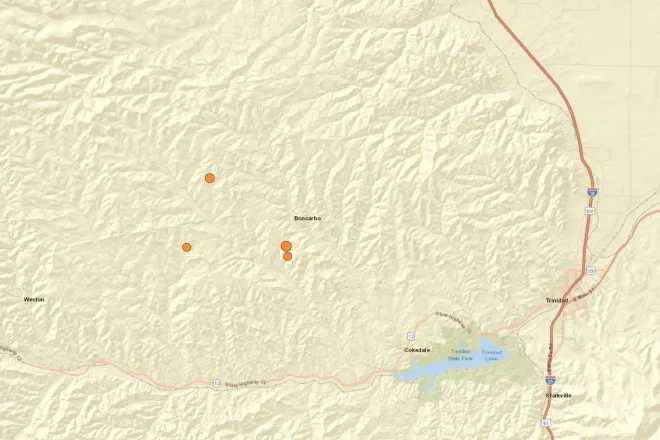 The fourth earthquake was located about three miles northwest of the first two. It occurred at 3:50 a.m. and was also about one mile deep. It measured 3.0 on the Richter Scale.
As of 6:30 a.m. Friday, 67 people – mainly around Trinidad, but as far away as Pueblo - reported feeling the earthquake. A handful of people reported feeling the subsequent quakes. No reports of damage had been received at the time of publication.
Minor earthquakes are relatively common in Las Animas County. Over the past 45 days, the area around Trinidad has experienced seven earthquakes measuring 2.5 or greater on the Richter Scale, including a magnitude 3.1 which occurred January 31 just outside of Trinidad.