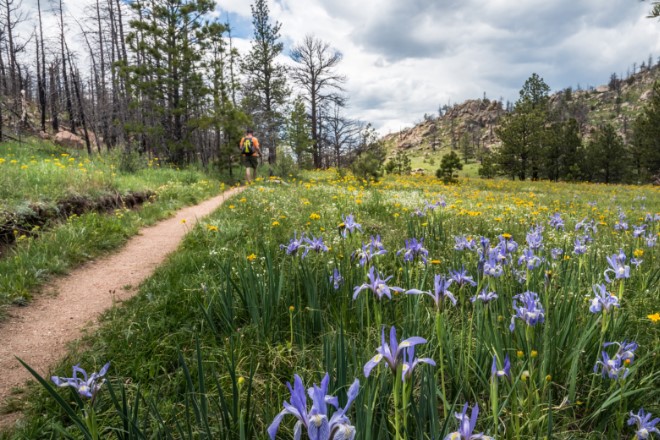 Published
Tuesday, March 26, 2019
The scenic landscapes and high elevation of many Colorado running trails make them a popular training destination for many endurance runners. However, you don't need to be an elite athlete to enjoy these trails.
Whether you're training for a big competition or just looking to change up your workout routine, these scenic running trails in Colorado will provide the perfect picturesque setting for your fitness journey. So lace up your running shoes, slide on a pair of sunglasses, and get ready to hit these unforgettable trails.
Turquoise Lake Trail, Leadville
The Turquoise Lake Trail is a lightly trafficked 11-mile out-and-back path. In comparison to other Colorado trails, the elevation gain of 433 feet is relatively small. However, its location at 10,000 feet above sea level makes for a challenging run across its gently rolling landscape.
Mesa Trail, Boulder
Enjoy a scenic view of the mountains and wildflowers on this 7.3-mile out-and-back trail. Rated as moderately difficult, it includes an elevation gain of 1,358 feet. Peak elevation on the trail reaches 6,465, but most of the run hovers around 5,500 feet.
Pawnee Pass Trail, Nederland
Pawnee Pass Trail is a popular yet difficult trail that includes an elevation gain of 2,103 feet. Beginning in the Brainard Lake Recreation Area, the 8.9-mile trek ends in Pawnee Peak. Just a half mile off the trail is a 12,943-foot peak that offers beautiful views of the Indian Peaks Wilderness.
Mount Falcon Castle Trail Loop, Morrison
Offering views from wildlife to ruins, the Mount Falcon Castle Trail Loop is one of the most scenic running trails in Colorado. Highlights on the 6.7-mile trail include the Fire Tower, Denver views, and remnants of John Brisben Walker's home. This popular trail has a moderate difficulty rating.
Imogene Pass, Telluride-Ouray
Imogen Pass is a moderately trafficked point-to-point trail known for its beautiful wildflower fields. Reaching 13,114 feet in elevation, it's the third highest mountain pass in Colorado. Due to its high altitude and 17.5-mile distance, many runners use it to practice for the Pike's Peak Marathon.