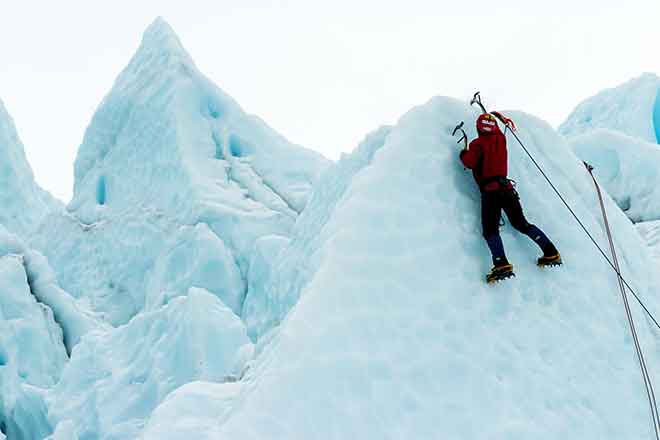 Published
Sunday, December 23, 2018
The beauty of Colorado lies in its year-round accessibility. In the summer, you can take your shaved baseball bats to a local park, ride your pro-mountain bike down the Rockies, or go white-water rafting. There's just as much to do in the winter, from skiing to snowmobiling to ice climbing. If you're interested in the best places to go ice climbing in Colorado, here are a few ice climbs that will have you loving the cold weather.
In the spring, Clear Creek Canyon offers easy hiking trails and beautiful views of the creek. But come winter, when snow covers the region in thick layers, ice climbers use the sheer cliffs as their playground. There are several sites that offer varied and fun ice climbs. These icy cliffs are formed by the frozen creek water and can be top roped for added security.
Durango is well-known for all of the outdoor activities it offers, including skiing, whitewater rafting, rock and ice climbing, and mountain biking. It also offers some spectacular ice climbs, from the East Animas and Cascade Creek routes to the more challenging Upper Haflin Falls. It was even the site of the Ice Climbing World Cup in 2016!
Ouray Ice Park is a man-made ice climbing site created in a natural gorge near Ouray, and it's acclaimed as one of the best places to go ice climbing in Colorado. Every winter, volunteers and staff spray water down the sides of the gorge to create incredible walls of ice. This ice park contains 150 ice climbs and 11 climbing sections and has become a vital resource to ice climbers in Colorado. Come with your own gear, because this park doesn't offer rentals.
Located very close to Boulder, Hidden Falls is a top destination for ice climbers of all skill levels. Its popularity can make it tricky for enthusiasts to get on the crag--you need to get there early if you want a spot on the cliff. The ice forms consistently in the winter, offering blood-pumping steep climbs as well as low-stress gradual inclines for new-comers.
Loch Vale Gorge climbing provides a medley of exciting climbs in the Rockies. Choose from low-angle slabs, free-hanging pinnacles, top roping and dry-tooling--you can change it up anytime, because they offer every kind of ice approach you can imagine.