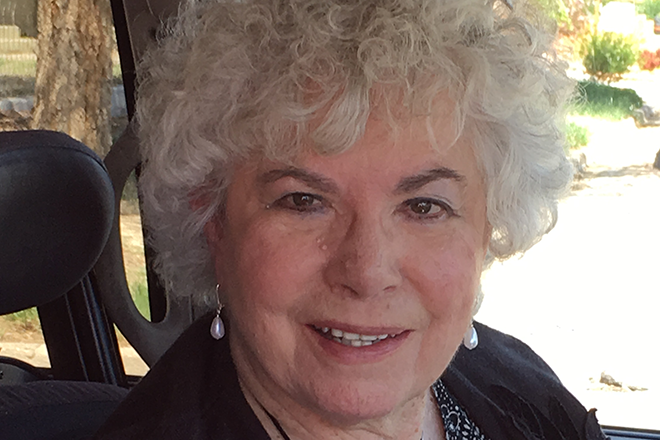 Published
Wednesday, March 23, 2016
By Doris Lessenden
"Sensible people control their temper; they earn respect by overlooking wrongs." Proverbs 19:11 NLT
Two 90 year old ladies who are very dear to my heart and the hearts of many people in Eads and Kit Carson and around the country are June Blooding of Eads and Glaida Craven of Kit Carson. Saturday, March 26th they are celebrating their birthdays. They would be pleased if you came to their parties. June's party is at 2:00 to 4:00 p.m. at the Prairie Pines at the south end of Maine Street in Eads. Gladia's party will have a Swedish flavor at 1:00 to 5:00 p.m. at the Kit Carson Historic Pool Hall on Main Street.
Trey Eder and Alyssa Hadley were married in Las Vegas, Nevada last week with a number of relatives and friends who traveled there to celebrate with them. Alyssa is a registered nurse at Weisbrod Hospital and Trey is an educator and coach at Eads High school. Mrs. Eder attended University of Colorado-Colorado Springs and Mr. Eder graduated from Colorado State University-Fort Collins with an emphasis in Physical Education and as a track field specialties.
Amy (Morgan) Gourley and her daughters, Harley and Hadley, drove from their Missouri home to visit her son and family in Springfield and other family members around there and in Eads.
Madison Kelley, Mindi Uhland, Mariah Smith, Brenna Rouse, and Zach Haase were inducted in to the National Honor Society. Congratulations on being selected by their faculty after completing and extensive application process with the first requirement to have a 3:00 Grade Point Average.
Baby Beckham Knox Lessenden was born to Shane and Brittany Lessenden of Burlington, CO last week. He is welcomed to their home by his big brother, Ryker. His great grandparents, Virgil and Wanda Lessenden and cousin, Colby Stoker, visited them Sunday.
There was a large group of family who met at Vi Koch's home last weekend to celebrate here 89th birthday and also her daughter, Karla's birthday. She and Bud and Dixie Bennett were glad to have visits from Charlie Howard's daughter, Angie Howard and husband, Jim Blain who drove up from Houston, Texas.
Leisha Peck has been studying through Lamar Community College taking Early Childhood Education classes to be a childcare taker and supervisor. She has visited a number of child care centers and is really excited about this career. This young lady is also a gifted pianist and sometimes shares playing the piano during meals at the Weisbrod ECU, church, and other social gatherings. No doubt she will play for the residents soon at the Prairie Pines because one of her grandmothers, Virginia Mitchell, has moved there from Pueblo West. Virginia says she is grateful to live nearer to her twins, Dawna Peck and Diana Sniff and her grandchildren and great grandchildren.
Dr. Tim Richardt, Weisbrod Physical Therapist, was invited to be the speaker by President Alice Glover at the Eads Senior Citizen dinner meeting. This young man from Queens, New York, says he really does like living in Colorado and especially likes to work in Eads because the people are so friendly and he gets to spend an hour with patients rather than 15 minutes. As he looked around the room of Eads Seniors he said he saw many people who have been his clients already and he emphasized that he is willing to answer questions and to help us. He worked with the Penn State University athletes which he enjoyed very much. He likes to work with Eads athletes also.
Tina Kraft of Eads has received an Award for achieving a Level 2 as an Early Childhood Teacher. She is a pre-school educator at Plainview School and loves her job and friends at Plainview. I know she is doing an extra measure of good because when she was the Activities Director, at Weisbrod she had so much zest and such good ideas.
Braden and Talli Lane celebrated the birth of their son last week who is one year old already.
We want to encourage everyone who can to take advantage of attending the Kiowa County Health Fair this Friday and Saturday mornings, March 25 and 26th. It is free unless you want your blood sample to be taken and then Gloria Gaynor and her volunteer workers will mail you results to you. There are also tests for men, tables of educational materials, persons to visit with you, and to give you educational materials, as well as other tests in elementary classrooms. The Eads Education Association also offers wonderful breakfast burritos, cups of fresh fruits and many baked goods. This is a fundraiser for the EEA Future Teachers Scholarship. We know of people in the past whose lives were "saved" because some of the simple tests that revealed a health problem.
We had so much fun at the Haswell Spring fling dinner and dance Saturday night, Emma Briggs and Valorie Briggs went with me. It was such a pleasure to watch the joy of Emma as she listened to her son, Scotty, belt out several songs during the Karaoke times. Then Joe Musgrave took to the stage and he really can sing well! Shane Lessenden entertained us as well as Pastor Claire Cassell and her husband, Robin. Later Pam Lessenden, Marlynn Eikenberg, and Valorie Briggs sang a trio. Darwin Nelson's music and lights were a big hit. People sat in an arc of tables on the gym floor and on the stage which were set with light green table cloths and fresh flowering plants. The cake walks, group dances, visiting, and drawings as well as the dinner were super!
Sam and Lacy Webster who live south of Haswell were there with their three young children, Talia, Silas, and tiny new born daughter, Claire, who has a lot of thick black hair. What a little tiny doll she is!
Baseball season is here. Our Eads team did well at the Las Animas Tournament even though they were playing in the cold spring snow storm. This week they were scheduled to play Swink in Eads. Games next week will be at Fowler and Granada. Our track team will be in La Junta on Thursday this week and next week, on Saturday April 2nd at the Lamar Track meet.
I recommend to you to go to the faith based movie, "Risen" which will be shown at 2:00 p.m. at the Plains Theatre on Friday, Saturday and Sunday of this Holy Week. The Roman leaders charge a centurion with finding the lost body of the Jew they crucified, Jesus.
This week on Saturday, March 26th at 2:00 p.m. is the Easter Egg hunt at the Court House Park after the Easter Parade. People can have their photo taken with the Easter Bunny. There will be the Sheriff's climbing wall, and other activities.
The Prairie Queen 4-H Club members will have a Bake Sale near the Kiowa Health Mart at 9:00 a.m. on Friday, March 24th and at 2:00 p.m. that day some members will take their baby animals to Weisbrod ECU for the residents to see and touch.
Friday evening is the Community Ministerial Fellowship will host the Good Friday service at the Eads Christian Church at 6:30 p.m.