Image
Ag stats: Wyoming crop progress and condition report – week ending August 7, 2022
Temperatures and precipitation varied across Wyoming for the week ending August 7, 2022, according to the Mountain Regional Field Office of the National Agricultural Statistics Service, USDA.
Temperatures ran above normal for most of the southern and eastern portions of the state. Temperatures were much as 5 degrees above average in extreme parts of eastern Wyoming. Western and northwestern areas, however, saw temperatures slightly below average.
Precipitation levels were below average in the southeastern third of the state. Moisture levels were higher for the remainder of Wyoming. Many areas of the north and west saw precipitation levels averaging about 0.45 inches. Levels were even higher in the far west. Parts of Lincoln, Sublette, and Teton, Counties received as much as 1.8 inches of rain.
There was no improvement to drought conditions. According to the United States Drought Monitor for August 4, 2022, the amount of land that was drought free fell to 6.3 percent, compared to 10.4 percent last week. The amount of land rated as abnormally dry increased to 30.8 percent, compared to 26.7 percent last week. Moderate drought was found in 37.9 percent of the state, unchanged from last week. Severe and extreme drought conditions were also unchanged from the previous week, sitting at 17.9 and 7.1 percent of the State, respectively.
Image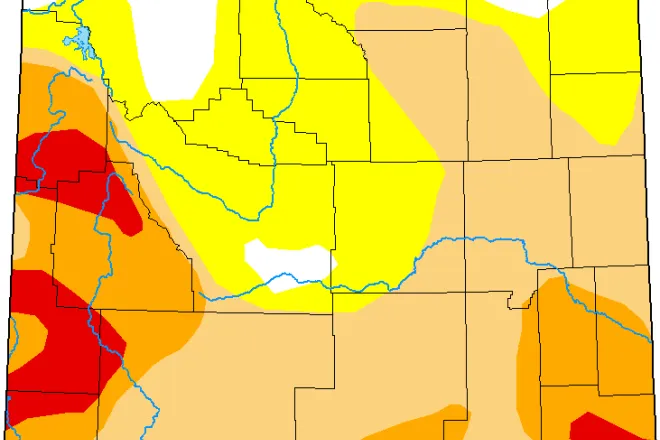 The Fish Fire that began July 31, 2022, in Crook County burned 7,000 acres.
The warm conditions caused algae bloom in portions of the County.
In Goshen County the high temperatures and dryness continued. Because pastures were in poor condition, calves would be weaned earlier than usual.
A report from Lincoln County indicated the dry conditions were followed by a strong thunderstorm at the end of the week. The storm put down an inch of rain and helped alleviate the drought in the area.
Irrigation water supplies across the State were rated 9 percent very poor, 32 percent poor, 17 percent fair, and 42 percent good, compared 5 percent very poor, 31 percent poor, 17 percent fair, and 47 percent good last week.
Stock water supplies across Wyoming were rated 5 percent very short, 46 percent short, 49 percent adequate, compared to 6 percent very short, 43 percent short, 50 percent adequate, and 1 percent surplus last week.
CROP AND LIVESTOCK PROGRESS

Commodity

Current week

Previous week

Previous year

5-year average

 

(percent)

(percent)

(percent)

(percent)

Alfalfa hay 

 
 
 
 

2nd cutting harvested 

42 

32 

63 

61 

Barley 

 
 
 
 

Headed 

91 

89 

NA 

NA 

Turning color 

87 

81 

93 

86 

Mature 

66 

49 

74 

62 

Harvested 

29 

10 

47 

34 

Corn 

 
 
 
 

Silked 

60 

34 

57 

58 

Doughed 

7 

2 

NA 

NA 

Dry edible beans 

 
 
 
 

Blooming 

84 

78 

77 

83 

Setting pods 

58 

29 

48 

47 

Other hay 

 
 
 
 

1st cutting harvested 

88 

79 

95 

90 

Winter wheat 

 
 
 
 

Mature 

83 

61 

90 

94 

Harvested 

57 

35 

75 

63 

DAYS SUITABLE FOR FIELDWORK AND SOIL MOISTURE CONDITION

 

Current week

Previous week

Previous year

5-year average

Days suitable for fieldwork

6.2 

6.8 

6.8 

6.6 

Topsoil moisture 

(percent)

(percent)

(percent)

(percent)

Very short 

33 

28 

19 

17 

Short. 

39 

35 

53 

38 

Adequate 

28 

37 

27 

45 

Surplus 

-- 

-- 

1 

-- 

Subsoil moisture 

 
 
 
 

Very short 

35 

29 

26 

19 

Short. 

40 

37 

38 

35 

Adequate 

25 

34 

35 

46 

Surplus 

-- 

-- 

1 

-- 

CROP, LIVESTOCK, PASTURE AND RANGE CONDITION

Commodity

Current week

Previous week

Previous year

5-year average

 

(percent)

(percent)

(percent)

(percent)

Alfalfa hay 

 
 
 
 

Very poor 

-- 

-- 

27 

7 

Poor 

-- 

-- 

15 

7 

Fair. 

25 

13 

9 

13 

Good 

75 

84 

45 

69 

Excellent 

-- 

3 

4 

4 

Barley 

 
 
 
 

Very poor 

-- 

-- 

4 

1 

Poor 

-- 

-- 

5 

3 

Fair. 

27 

21 

20 

11 

Good 

73 

78 

70 

85 

Excellent 

-- 

1 

1 

-- 

Corn 

 
 
 
 

Very poor 

-- 

-- 

-- 

-- 

Poor 

-- 

-- 

-- 

4 

Fair. 

28 

25 

6 

14 

Good 

72 

74 

90 

80 

Excellent 

-- 

1 

4 

2 

Dry edible beans 

 
 
 
 

Very poor 

-- 

-- 

-- 

-- 

Poor 

9 

9 

-- 

3 

Fair. 

52 

43 

18 

17 

Good 

39 

47 

79 

78 

Excellent 

-- 

1 

3 

2 

Pasture and range 

 
 
 
 

Very poor 

14 

12 

32 

13 

Poor 

17 

15 

35 

21 

Fair. 

32 

23 

25 

32 

Good 

37 

46 

7 

29 

Excellent 

-- 

4 

1 

5 

Sugarbeets 

 
 
 
 

Very poor 

-- 

-- 

3 

1 

Poor 

-- 

-- 

8 

4 

Fair. 

13 

13 

27 

18 

Good 

87 

86 

61 

74 

Excellent 

-- 

1 

1 

3 

Winter wheat 

 
 
 
 

Very poor 

20 

18 

1 

NA 

Poor 

44 

40 

10 

NA 

Fair. 

30 

29 

63 

NA 

Good 

6 

11 

22 

NA 

Excellent 

-- 

2 

4 

NA 

Livestock 

 
 
 
 

Very poor 

-- 

-- 

-- 

-- 

Poor 

-- 

-- 

7 

3 

Fair. 

20 

15 

39 

18 

Good 

77 

73 

53 

73 

Excellent 

3 

12 

1 

6