Image
Ag stats: Wyoming crop progress and condition report – week ending November 20, 2022
Temperatures were well below normal for all of Wyoming for the week ending November 20, 2022, according to the Mountain Regional Field Office of the National Agricultural Statistics Service.
Temperatures were in a range of about 8 to 16 degrees below average for the majority of the State. A portion of extreme northeastern Wyoming saw temperatures as much as about 20 degrees below average.
Precipitation levels were at or below normal for much of the State. Precipitation levels were better in portions of western and north-central Wyoming. Isolated areas of the southwest received as much as 0.7 inches of precipitation. Parts of northern Wyoming received similar amounts of precipitation.
Wyoming saw an improvement in drought conditions according to the United States Drought Monitor report published on November 17, 2022. The amount of land rated drought free increased to 18.4 percent, compared to 14.1 percent the previous week. The amount of land rated abnormally dry fell to 24.8 percent, compared to 29.1 percent last week. Moderate drought was found in 28.2 percent of the State, a slight increase of 1.2 percentage points. Severe drought was found in 22.2 percent of Wyoming, a decrease of 0.5 percent points. Extreme drought conditions fell to 6.4 percent, compared to 7.1 percent the previous week.
Image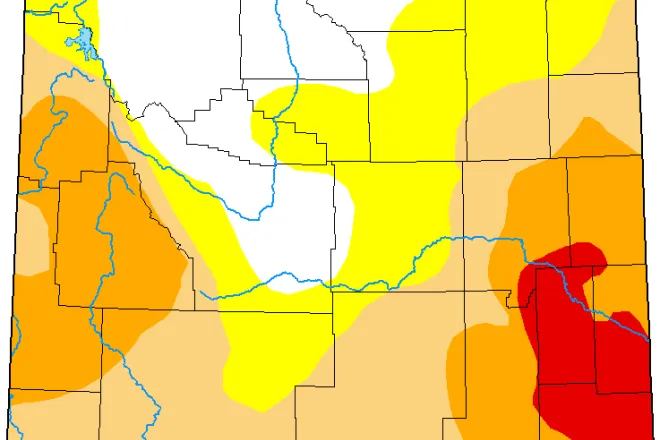 Corn harvest was ongoing in Big Horn County. All other field work was finished for the season.
The cold weather continued in Lincoln County. Conditions were mostly dry. The precipitation that was received was minimal.
Conditions were also cold and dry in Goshen County. Corn harvest increased to 87 percent complete statewide, compared to 71 percent last week.
Hay and roughage supplies were rated 29 percent very short, 30 percent short, and 41 percent adequate, compared to 20 percent very short, 36 percent short, 42 percent adequate, and 2 percent surplus last week.
Stock water supplies across Wyoming were rated 6 percent very short, 55 percent short, and 39 percent adequate, compared to 3 percent very short, 57 percent short, 39 percent adequate, and 1 percent surplus last week.
CROP PROGRESS

Commodity

Current week

Previous week

Previous year

5-year average

 

(percent)

(percent)

(percent)

(percent)

Corn 

 
 
 
 

Harvested for grain 

87 

71 

89 

83 

DAYS SUITABLE FOR FIELDWORK AND SOIL MOISTURE CONDITION

 

Current week

Previous week

Previous year

5-year average

Days suitable for fieldwork

5.2 

5.9 

7.0 

5.8 

Topsoil moisture 

(percent)

(percent)

(percent)

(percent)

Very short 

30 

39 

18 

14 

Short 

47 

40 

42 

33 

Adequate 

23 

20 

40 

50 

Surplus 

-- 

1 

-- 

3 

Subsoil moisture 

 
 
 
 

Very short 

35 

44 

20 

21 

Short 

48 

44 

54 

36 

Adequate 

17 

12 

26 

42 

Surplus 

-- 

-- 

-- 

1 

CROP, LIVESTOCK, PASTURE AND RANGE CONDITION

Commodity

Current week

Previous week

Previous year

5-year average

 

(percent)

(percent)

(percent)

(percent)

Pasture and range 

 
 
 
 

Very poor 

13 

13 

27 

14 

Poor 

23 

30 

25 

20 

Fair 

30 

34 

35 

40 

Good 

32 

23 

13 

24 

Excellent 

2 

-- 

-- 

2 

Winter wheat 

 
 
 
 

Very poor 

4 

4 

4 

3 

Poor 

23 

23 

19 

12 

Fair 

58 

60 

52 

28 

Good 

14 

13 

20 

52 

Excellent 

1 

-- 

5 

5 

Livestock 

 
 
 
 

Very poor 

-- 

-- 

-- 

-- 

Poor 

1 

1 

3 

2 

Fair 

18 

21 

30 

20 

Good 

74 

76 

65 

74 

Excellent 

7 

2 

2 

4