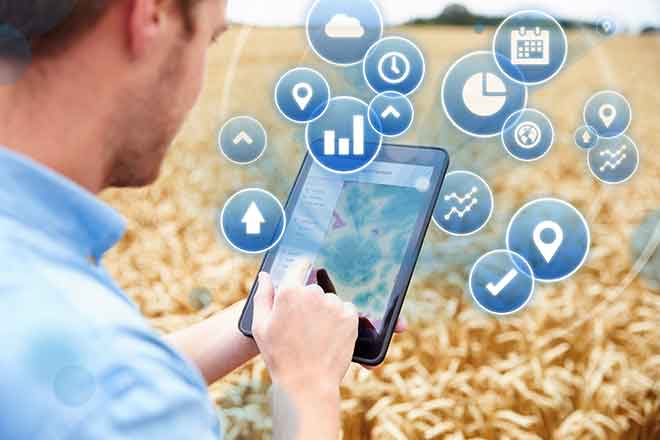 Published
Wednesday, October 20, 2021
This week brought scattered precipitation and above average temperatures to Wyoming, according to the Mountain Regional Field Office of the National Agricultural Statistics Service, USDA.
Precipitation this week was a mix of rain and snow. Big Horn County reported a storm early in the week brought a mix of rain and snow that halted all farming for the week. Weston and Goshen counties reported the storm brought much needed moisture and helped improve soil moisture.
Most of the State received over 0.1 inch of moisture. Areas along the western border received over an inch of precipitation, while isolated areas in the southeastern corner of the State recorded only 0.05 inch. Despite the storm, precipitation totals for the month of October are roughly three quarters of an inch below average for most of the State.
Temperatures remained above average this week. Temperatures in the western and southwestern counties ranged from average to 4 degrees above average. Counties along the eastern and northern borders of the State were the hottest this week, with temperatures 6 to 10 degrees above average.
According to the United States Drought Monitor for October 14, 2021, the amount of land rated as abnormally dry remained at 2.1 percent, unchanged from last week. Moderate drought was present across 24.8 percent of the State, a decrease from 27.5 percent last week. Severe drought increased to cover 43.0 percent of the State, roughly a 15.0 percent increase from 37.4 percent last week. Extreme drought conditions decreased slightly from 33.0 percent last week to 30.1 percent of the State this week. This is the fifth week in a row with 100.0 percent of the State experiencing drought conditions.
The winter wheat crop was reported at 98 percent emerged this week.
Harvest of corn for grain is behind last year as harvest was reported at 18 percent complete this week compared to 61 percent harvested this time last year.
Sugarbeet harvest is 52 percent complete, compared to 64 percent complete this time last year. Harvest of the third cutting of alfalfa hay and dry edible beans is nearing completion, with harvest reported at 93 percent complete and 96 percent complete, respectively.
Stock water supplies across Wyoming were rated 21 percent very short, 57 percent short, and 22 percent adequate compared to 28 percent very short, 48 percent short, 23 percent adequate, and 1 percent surplus last week.
CROP AND LIVESTOCK PROGRESS

Commodity

Current week

Previous week

Previous year

5-year average

(percent)

(percent)

(percent)

(percent)

Alfalfa

3rd cutting harvested

93

85

88

85

Corn

Mature

88

71

99

94

Harvested for grain

18

10

61

26

Dry edible beans

Harvested

96

91

94

89

Sugarbeets

Harvested

52

50

64

51

Winter Wheat

Emerged

98

79

95

94

DAYS SUITABLE FOR FIELDWORK AND SOIL MOISTURE CONDITION

Current week

Previous week

Previous year

5-year average

Days suitable for fieldwork

4.8

6.5

6.9

6.5

Topsoil moisture

(percent)

(percent)

(percent)

(percent)

Very short

29

38

46

18

Short

42

42

41

33

Adequate

28

19

13

45

Surplus

1

1

--

4

Subsoil moisture

Very short

31

40

50

21

Short

49

40

35

36

Adequate

19

20

15

42

Surplus

1

--

--

1

CROP, LIVESTOCK, PASTURE AND RANGE CONDITION

Commodity

Current week

Previous week

Previous year

5-year average

(percent)

(percent)

(percent)

(percent)

Corn

Very poor

--

--

--

--

Poor

--

--

7

3

Fair

6

5

39

19

Good

87

88

54

77

Excellent

7

7

--

1

Pasture and range

Very poor

31

32

29

13

Poor

39

30

43

20

Fair

27

26

28

37

Good

3

11

--

28

Excellent

--

1

--

2

Winter wheat

Very poor

--

1

8

4

Poor

8

7

16

7

Fair

72

63

32

29

Good

20

25

40

57

Excellent

--

4

4

3

Livestock

Very poor

--

--

--

--

Poor

5

6

1

1

Fair

38

31

20

14

Good

55

60

79

82

Excellent

2

3

--

3