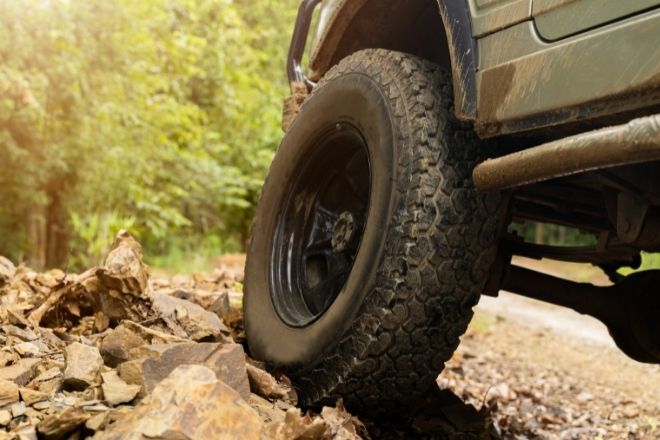 Published
Thursday, July 15, 2021
Every vehicle's purpose is to get someone from point A to point B. Yet, vehicles have changed with new technologies and designs to handle both on and off-road travel. Specifically, off-road capability has proven popular amongst car and truck lovers because of the suspense and adrenaline involved in the activity. There are many off-road vehicles to know about, but here are some of the best off-road vehicles of all time. Who knows, you might find your next vehicle.
Dodge Ram 1500 Rebel TRX
Dodge's Ram truck line is one of the most popular pickup trucks to date. Therefore, it's only natural they wanted to go all out and design a truck for off-roading and tough driving conditions. With a 4x4 drivetrain, 701 horsepower, 650 lb-ft of torque, supercharged 6.2 HEMI V8 engine, 11.8" of ground clearance, 13" of front suspension travel, and 14" of rear suspension travel, the TRX was made for off-roading. To prove its off-road capability, the TRX has eight drive modes depending on terrain or surface conditions, such as sport mode, snow mode, custom, mud or sand mode, rock mode, and Baja mode for beach travel.
Ford F-150 Raptor
Equally impressive to the Dodge Ram TRX is Ford's F-150 Raptor. Also known as the Ford Raptor, this powerhouse is one of the most dexterous off-road vehicles on the market. Originally made as a racing vehicle, the Ford Raptor gained momentous popularity amongst pickup truck lovers for its impressive features and characteristics. The 2021 Ford Raptor offers a five-link rear suspension to maintain axle position on rough terrain and send more torque to the rear wheels for faster acceleration and throttle response. It also sports Fox Racing shock absorbers to withstand rough surface impacts, and a 3.5L EcoBoost High-Output V6 Engine to match.
Toyota Tacoma
The Toyota Tacoma proves itself as another one of the best off-road vehicles of all time as a smaller pickup truck with exceptional off-road capability. Interestingly, the Tacoma is a mid-sized truck which means it's more compact and smaller than full-sized alternatives, like the Raptor or TRX. Still, for being mid-sized, its off-road capabilities are not to be ignored. The TRD Pro trim package adds a 2" front lift, Bilstein 2.5" shock absorbers, all-terrain tires, 16" bead-locked wheels, and a TRD exhaust system. In this case, being smaller truly packs a punch.
Jeep Wrangler
The Jeep Wrangler makes an exceptional breakthrough in this list for being an off-road capable mid-sized SUV. It also has a historical legacy. Emerging in the 1980s as an offshoot of World War II army Jeeps, the Wrangler features trackbars, anti-roll bars, front and rear coil springs, and a 4x4 drivetrain. It also has notable recognition for scaling Chile's Ojos del Salado volcano, the highest volcano on Earth, where it reached 21, 804 feet. In 2021, Jeep announced a hardcore 6.4L HEMI V8 Wrangler Rubicon for serious engine performance.