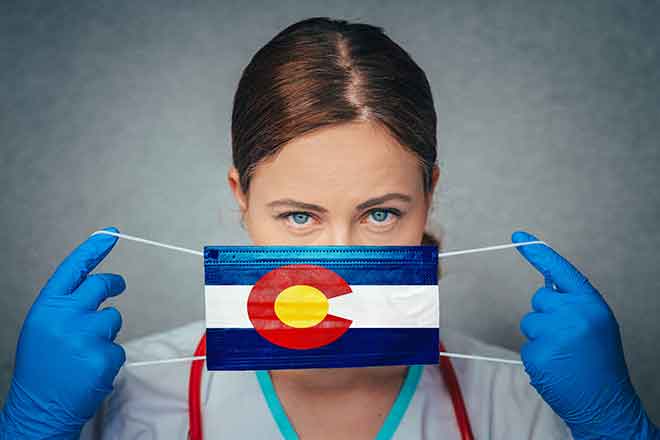 Published
Wednesday, January 26, 2022
(The Center Square) - Colorado distributed 1.7 million KN95 and surgical grade masks last week, the governor's office said Tuesday.
The distribution is part of the state's efforts to provide protective equipment to Coloradans who are at high-risk of contracting COVID-19. State health officials recommend that people upgrade their face masks from cloth to surgical grade as the omicron variant continues to spread across the state.
"It is so encouraging to see Coloradans personally stepping up to protect themselves with free medical grade masks," Gov. Jared Polis said in a statement. "What we've consistently seen throughout this pandemic is individual Coloradans and families using fact-based information to protect themselves and their families including getting vaccinated and testing when ill."
According to the Division of Homeland Security and Emergency Management (DHSEM), Colorado is utilizing 368 distribution sites to deliver the masks, which are distributed free of charge. Many of the sites are located at recreation centers, but also include libraries and community centers.
Colorado does not have a statewide mask mandate in place, but some counties and businesses may still require patrons to wear them.
Federal law requires all travelers over the age of two to wear masks while traveling on planes, buses, trains, and other forms of public transportation in the U.S.
"Our focus is on keeping all Coloradans safe," DHSEM Director Kevin Flein said. "This free distribution of high quality KN95 and surgical-grade masks, along with our free testing programs and vaccine outreach all work in concert to ensure that every Coloradan has access to necessary COVID-19-related supplies and services regardless of their financial situation or background."
The federal government in recent weeks has also ramped up its distribution of masks from its Strategic National Stockpile to the states, The Washington Post reported.
Colorado is using federal aid funds to help pay for the KN95 masks, according to CPR News.