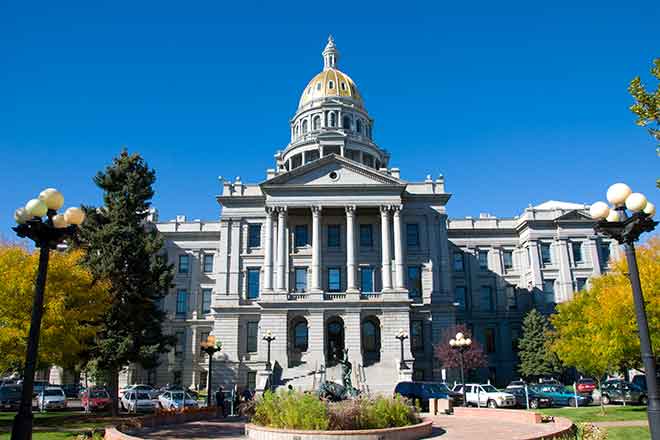 Published
Tuesday, May 4, 2021
(The Center Square) -- Colorado lawmakers introduced two additional pieces of legislation on Friday that are part of the state's recovery plan.
Senate Bill 21-252 would create the Community Revitalization Grant Program to provide $65 million to boost economic development along mixed-use areas in the state.
The grant program is meant to support projects including flexible live-work or vendor spaces for entrepreneurs, performance spaces, child care centers, and meeting spaces for community events, according to the bill's text.
The bill is sponsored by Sens. Steve Fenberg, D-Boulder, and Bob Gardner, R-Colorado Springs, and Reps. Brianna Titone, D-Arvada, and Susan Lontine, D-Denver.
"Institutions that make up the fabric of our communities have been hit hard over the last year, but we're determined to help them build back stronger," Fenberg said in a statement. "With this funding, our commercial centers will be able to move forward with creative projects to support revitalization efforts and make necessary improvements to their infrastructure. Doing so will help lift up our communities and restore our Colorado way of life."
Lawmakers also introduced Senate Bill 21-258, which would build on previous efforts to boost the state's wildfire mitigation efforts. If passed, it would give foresters over $30 million to issue grants for projects that mitigate wildfire risk.
Lawmakers previously introduced a bill that would appropriate $15 million to the state water conservation board to help boost wildfire fighting efforts.
SB21-258 is sponsored by Sens. Joann Ginal, D-Fort Collins, Bob Rankin, R-Carbondale, and Reps. Marc Snyder, D-Manitou Springs, and Ron Hanks, R-Penrose.
"The impacts of Global warming have been devastating for Colorado. With mass wildfires only continuing to worsen, we have all watched in horror as natural habitats get destroyed, wildlife are displaced, and toxic pollution clouds our state," Ginal said in a statement. "We must do everything in our power to mitigate these escalating wildfire seasons by increasing funding for resources to support prevention tactics ahead of what is sure to be yet another treacherously dry summer."
State wildfire experts said in April that they expect to face another year of intense blazes in 2021. Last year's devastating fire season was fueled by unseasonably warm weather and a lack of moisture, both of which are present today, they said.
According to the state's wildfire prevention plan, Colorado is expected to see a fivefold increase in its total land burned by 2050.
The Colorado Senate on Monday also approved a handful of recovery bills, among them funding for rural economic development and the agricultural sector.