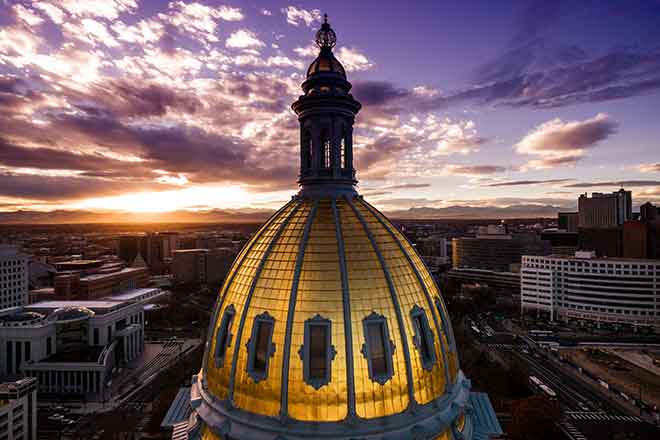 Published
Thursday, February 2, 2023
(The Center Square) - A bill that would make a state committee on water and agriculture permanent unanimously passed Wednesday in the Colorado Senate.
Senate Bill 23-010 would amend statutory language stating it was an interim committee. It also removes limitations on the number of meetings and field trips the committee may hold and requires at least four meetings each calendar year.
"Water in Colorado is key," Sen. Jeff Bridges, D-Greenwood Village, and the bill's sponsor, said in a video posted on social media. "We are one of the lead agricultural states. Weld County is one of the top-10 agricultural counties in the entire country."
Sen. Cleave Simpson, R-Alamosa, co-sponsored the bill and said in a media release the legislation will move Colorado's water issues to the top of agendas.
"Water is the lifeblood of our state," Simpson said in a statement. "The General Assembly has the responsibility to ensure today's water needs are being met, and tomorrow's water needs are accounted for. By eliminating arbitrary limitations on the Water Resources and Agriculture Committee, we can better address and solve the water problems we face in Colorado."
Approximately 57 percent of Colorado is currently experiencing abnormally dry conditions and approximately 14 percent is experiencing severe to exceptional drought, according to the U.S. Drought Monitor produced through a partnership with the National Drought Mitigation Center and other federal agencies. The entire state was abnormally dry in January 2022 with 88 percent experiencing severe or extreme drought.
An outlook for February on the National Drought Mitigation website shows drought will persist in the eastern third of Colorado.
Colorado joined Arizona, Nevada, Wyoming, New Mexico and Utah in notifying the U.S. Department of the Interior on Tuesday of its intention to join a Colorado River Basin water use agreement. California has yet to sign on.
"As a headwaters state, we have the highest elevation of any state in the union," Bridges said. "It is literally all downhill from Colorado. Global warming and climate change is reducing the amount of precipitation that we get every year. Wildfires and drought are making it harder for us to maintain the agricultural heritage of our state."
The bill states the General Assembly's mandate to "vigorously protect and defend Colorado's finite supply of water." The legislature will also be tasked with protecting water quality and quantity and ensuring interstate water compact agreements are met and, according to those agreements, Colorado's water resources are "protected against unwarranted claims."
The legislation is due to be reviewed in the House of Representatives in the coming weeks.