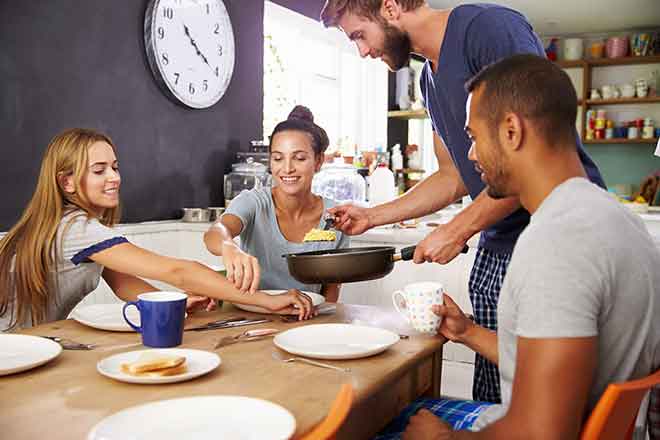 Published
Saturday, July 4, 2020
The Eating Smart Seasoning Mix helps make this a quick and flavorful dinner of beef and potatoes. Try sweet potatoes or other types for increased variety.
Ingredients
Beef and Potatoes
1 pound ground beef (90% lean)
1 1/3 cups water
7 medium potatoes, peeled and thinly sliced (6-8 potatoes)
12 tablespoons Eating Smart Seasoning Mix (12 Tablespoons (3/4 cup) - see ingredients below)
salt (to taste, optional)
1 1/4 teaspoons black pepper
1 tablespoon garlic powder
2 tablespoons dried parsley flakes
3/4 cup dried, minced onion
2 cups dried milk, non-fat
Directions
Wash and peel the potatoes.
Collect, slice, and measure all ingredients before starting to prepare the recipe.
Brown ground beef in a large skillet. Drain the fat.
Add water, potatoes, and seasoning mix. Stir to combine with the beef.
Bring to a boil, reduce heat to low, cover, and simmer for 20-30 minutes or until potatoes are tender.
Uncover and cook until excess water is evaporated.
Taste; then add a small amount of salt, if needed.
Refrigerate leftovers within 2 hours. Eat within 3 to 5 days.
Notes
Be creative! Add chopped, cooked vegetables or frozen vegetables such as onion, carrots, peas, green beans, or corn after simmering.
Source: Colorado State University and University of California at Davis. Eating Smart Being Active Recipes.
Nutrition Information
| Nutrients | Amount |
| --- | --- |
| Total Calories | 264 |
| Total Fat | 5 g |
| Saturated Fat | 2 g |
| Cholesterol | 40 mg |
| Sodium | 52 mg |
| Carbohydrates | 37 g |
| Dietary Fiber | 5 g |
| Total Sugars | 2 g |
| Added Sugars included | 0 g |
| Protein | 17 g |
| Vitamin D | 0 mcg |
| Calcium | 34 mg |
| Iron | 3 mg |
| Potassium | 1075 mg |