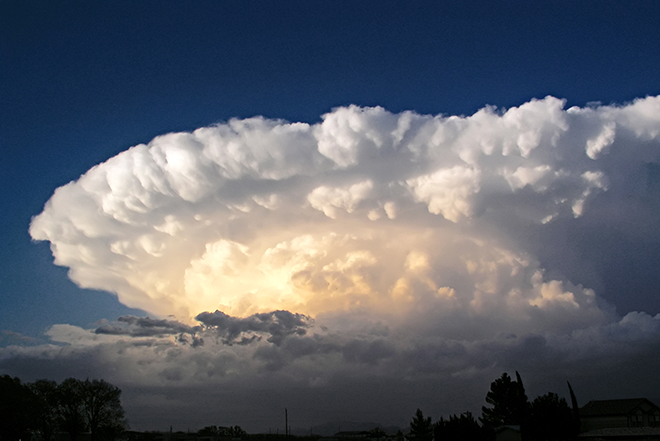 Published
Saturday, June 16, 2018
Upper 90s will be replaced with low to mid-80s by Monday, with increasing chances of rain coming to the area just as an early wheat harvest gets underway in some parts of Kiowa County.
Saturday's high will reach 90, accompanied by south wind in the 20 to 30 mile per hour range. Gusts to 40 mph are possible. Later in the day, tropical moisture and the remnants of Hurricane Bud begin to flow into the area, bringing a chance of afternoon and evening showers and thunderstorms. A tenth to a quarter inch of rain is possible overnight as temperatures fall to the mid- to low 60s.
Conditions Sunday will be similar, with highs falling off a degree or two. South winds continue in the 15 to 20 mph range. Wind will shift to the north after midnight. Thunderstorms are possible overnight, however less than one-tenth inch of rain is possible.
Temperatures drop further Monday, reaching the mid-80s under mostly sunny skies. By Monday night, chances for showers and thunderstorms return as temperatures drop to around 60.
Potential for rain - and some relief from drought conditions - increases throughout the day Tuesday as temperatures top out around 80. Overnight, rain is likely, before tapering off Wednesday.
As moisture returns to Colorado over the coming week, flooding could become an issue. Safety tips are available in this article.
Weather information updated throughout the day is available at http://weather.KiowaCountyPress.net.
Temperature Forecast - June 16 - 19

Saturday

Sunday

Monday

Tuesday

City

High

Low

High

Low

High

Low

High

Low

Haswell

89

62

89

58

84

59

80

58

Eads

90

62

90

58

84

58

80

58

Sheridan Lake

90

65

91

58

84

59

81

59