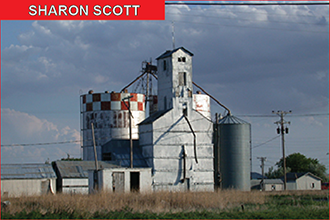 Published
Tuesday, March 22, 2016
By Sharon Scott
Spring break is over and on to track, baseball, proms and graduations. Just 9 weeks of school left, where did the year go?
Glad to hear that Denis Weber is home after spending several days in the hospital with pneumonia. This past week, Ronnie Weber and children from Washington and Linda Cochran and Connie Weber of Denver came to visit their parents, Denis and Theresa Weber. The girls went home Saturday, but Ronnie and his children will be here until Easter.
All of them took in the Splitter farm sale on Thursday.
A large crowd attended the Splitter sale and dinner on Thursday.
The Kings Daughters would like to thank everyone who donated extra pies for the dinner.
Mark, Ruth and Hannah Splitter, Paul Splitter and Scott Krentz came to help Eugene and Judy get ready for the sale, along with all the other Splitter clan that lived close by. It is a large undertaking to have a farm sale.
Susan Greenfield went to Sterling Friday through Monday to visit her dad, Norm. On Saturday they went to Denver to see her sister Sami and husband John. On Tuesday, Susan had surgery in Lamar to remove a bone spur on her heel. Hope you continue to improve, Susan.
Last Monday I went to Granada to help my great-niece, Olivia Reynolds celebrate her 5th birthday, at the home of her grandparents, Ian and Jerene DeBono. Other guests were: Josh, Tori and Levi Reynolds; Donna Huddleston; Mary Huddleston; Chad DeBono; and Dexter Dechant. Happy birthday Liv!!
Mikayla Schmidt spent last week with her parents, Kelvin and Amy and brother Alex. She was on her spring break from college.
Dick and I attended the Splitter sale on Thursday and then went to La Junta that evening for an eye appointment.
My sister, Jerene DeBono and I went to Dodge City on Saturday to meet my son Mark and bring Kyle back home. He had been visiting his parents over spring break. Of course, you can't go to Dodge City without spending some time at the casino. I'm pleased to report that I did not leave any revenue for the state of Kansas this time. I actually brought some home to spend in Colorado. It was a good day!
Don't forget the Sheridan Lake Bible Church Ladies Retreat coming up on April 1 and 2nd. Please RSVP by March 28 to Amy at 719-727-5401.