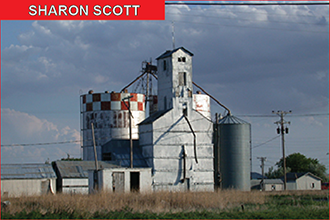 Published
Tuesday, March 29, 2016
By Sharon Scott
I would like to wish my dear friend, Cora Coffman a very special birthday, which was last Wednesday. Happy Birthday Cora!!
On Saturday, Kelli Kern and Sonny Chavez took Cora Coffman to Lamar for a belated birthday lunch and shopping.
The Plainview Junior High Knowledge Bowl team, consisting of Japhet Frey, Olivia Specht, Kyle Scott and their coach, Miss Fees traveled to Vilas for the final meet of the season. They tied for second place.
Congratulations on your win!
The High School track team started their season last Thursday and the Junior High track starts this coming Friday. They have several track meets lined up, so we'll be on the road again this next month or so.
Merle and Carol Shalberg went to Lamar on Saturday evening to see their new great granddaughter, Hope Sabrina Shalberg, daughter of Brock and Beth Shalberg. Congratulations on the newest addition to your family.
Dick, Kyle and I went to Granada for Easter dinner at the home of Ian and Jerene DeBono. Other guests were: Gina Dechant and sons, Dexter and Jett; Mary Huddleston; Tom Scott and Donna Huddleston.
Eugene and Judy Splitter had a house full of family and friends for Easter dinner.
Susan Greenfield celebrated Easter weekend with Tina Kraft and her family.
Cheri Hopkins attended the Health Fair in Eads on Friday. That evening, her daughter Christy came over to visit.
Guests of Cheri Hopkins for Easter dinner were: Christy Hopkins and Evan, Jen, Layton, Julia and Lincoln Hopkins.
Bryan, Dorcas and Abby Berggren hosted Easter dinner at their home. Those in attendance were: Amanda Berggren of McPherson, KS; Jayme and Megan Berggren and daughter Wren of Tribune; Kelvin, Amy, Mikayla and Alex Schmidt and Freda Schmidt of Towner and Maynard and Dorothy Seaman of Sheridan Lake.
Guests of Linly and Sherell Stum on Easter Sunday were: Lane and Tammy Stum; Sean and Misty Harkness and children; Chris and Jen Stum and family and Tammy's parents, Jack and Mary.
Monte and Linda Stum traveled to Rocky Ford to spend Easter weekend with their daughter Kami and Chris Janes and family.
Easter dinner guests of Merle and Carol Shalberg were: Steve, Linda, Dylan and Dawsen Shalberg of Lakin, KS; Greg and Penni Shalberg and sons of Sheridan Lake; Bill and Charlotte Woelk of Eads; and Charlene Korrel and Ed Carrigan of Cheyenne Wells.
On Monday, Carol and her daughter Lori Shalberg traveled to Denver to consult with Lori's Dr.
Don't forget the Sheridan Lake Church Ladies Retreat on April 1 & 2. Also, the 1st Annual Spring Fling Craft Fair at Plainview gymnasium on April 9 from 9a.m. to 4p.m. Lunch will be available and the 8th grade is doing a "Car Wash" during the day. Come on out and support the activities.
Have a great week and let's hope we get some much needed moisture soon!