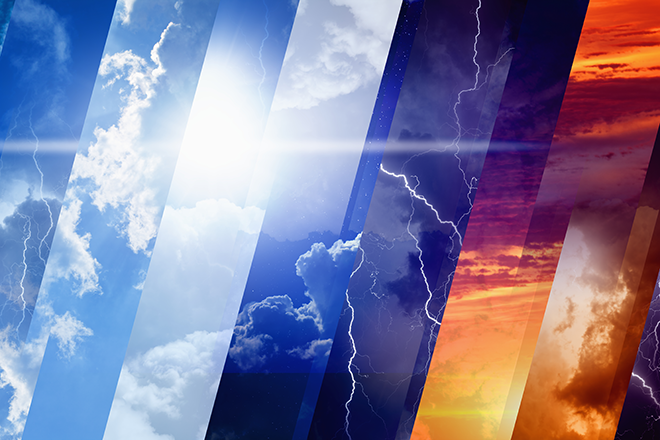 Published
Friday, August 4, 2017
The calendar may say August 4; however, temperatures have an early fall feel in many areas. Scattered showers and a few thunderstorms are possible Friday, particularly for the northeast plains of Colorado.
Eastern Colorado
There is a risk for thunderstorms, some severe, over the northeast portion of the state, stretching as far south as Kiowa, Prowers and Bent counties. Large hail, potentially over one inch, is possible, along with gusty winds and locally heavy rain.
The southern quarter of Colorado will see mainly see high temperatures in the 80s, with Pueblo and La Junta reaching the upper 80s, while Eads, Springfield and Kim will be in the low 80s. Further north, Fort Morgan and Sterling sill be in the mid-80s, while Wray, Flagler and Cheyenne Wells enjoy highs a few degrees cooler.
Cooler temperatures will largely persist across the state through the weekend into early next week. Highs in the 80s are expected Saturday, with Eads and Springfield approaching 90. The potential for afternoon and evening showers and thunderstorms returns, though mainly in the southern part of the region.
Starting Sunday, highs will be in the upper 70s, further falling to the low 70s Monday. Limon will be the cool spot as the high barely touches 70. There is an increasing chance for storms and heavy precipitation Sunday as low-level moisture increases. Large hail and gusty winds will be possible. The heavy rain could generate a risk for flash flooding.
For Monday, widespread showers may return along with temperatures well below normal for this time of year.
Western Colorado
Much like the plains, Colorado's west slope will be enjoying temperatures in the 80s Friday. The southwest portion of the state should watch for scattered thunderstorms and breezy conditions during the afternoon, while the potential for storms is lower in the northwest.
Temperatures Saturday will be similar, with Grand Junction warming slightly to hit 90. Showers are possible, but will quickly fade after sunset.
Cool and unsettled conditions continue Sunday into the coming week, bringing below normal temperatures and a few scattered showers. Western mountains above 14,000 feet have already seen some limited snow, which may return over the next few days.
Forecast - August 4 - 7

Friday

Saturday

Sunday

Monday

City

High

Low

High

Low

High

Low

High

Low

Eads

83

62

90

61

78

59

73

56

Springfield

82

63

88

61

79

60

74

57

Trinidad

82

61

84

56

78

56

73

56

Limon

83

56

85

56

73

54

70

53

Sterling

85

57

85

59

77

55

73

55

Fort Morgan

86

57

85

58

77

55

74

55

Craig

81

56

81

53

78

53

73

52

Grand Junction

87

66

90

63

87

63

84

61

Montrose

82

59

83

57

82

56

78

56

Cortez

82

59

83

56

82

55

80

54