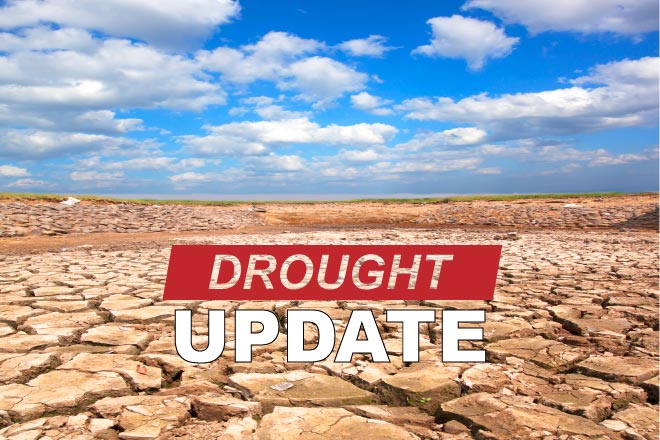 Published
Friday, May 31, 2019
One week after the state reached 99.99 percent free from drought and abnormally dry areas, Colorado has now reached 100 percent for the first time since records became available in 2000.
Following spring snow and rain storms, most of the continental United States has moved out of drought conditions. Many states along the Mississippi River draining continue to experience flooding and high water from the storms.
As of the May 28, 2019, report from the National Drought Mitigation Center, 11 states in the lower 48 have pockets of moderate drought, with Washington being the most notable.
Both Alaska and Hawaii have small areas impacted by severe and extreme drought.
Most of Alaska is drought-free except for southeast coastal areas, with extreme drought making its first-ever appearance in the state last week. Severe and extreme drought is noted on the southern tip of Hawaii's big island, with much of remainder of the island chain is covered by moderate drought and abnormally dry conditions.
While most states across the continental U.S. are drought free, areas of abnormal dryness are noted in addition to the states with moderate drought.
Just under 88 percent of the nation is free from all categories of drought, a drop from 91 percent last week. The southeast U.S. has been suffering under high temperatures, resulting in an increased area impacted by moderate drought and abnormal dryness.
Colorado rapidly moved out of drought that had covered have the state in the two worst categories thanks, in part, to winter storms starting in January. The National Weather Service issued winter weather alerts for mountain areas of the state as recently as this week and predicted as much as a foot of new snow at higher elevations.
As recently as January 1, just 18 percent of Colorado was drought-free, and 11 percent of the state was in exceptional drought - the worst category. Conditions rapidly improved as regular snow storms crossed the state, particularly in hardest-hit southwest Colorado. However, lack of moisture on the eastern plans during that time led to a temporary increase in abnormally-dry conditions, and the drought-free area further shrank to just over eight percent of the state.
By the end of February, exceptional drought had left the state and extreme drought fell to less than one percent.
Mid-March brought even more dramatic improvements as extreme drought also left the state and severe drought fell to under one percent. In the same week, the drought-free area increased from 17 percent to just under 54 percent of Colorado.
By the start of April, drought-free area had further increased to 78 percent while remaining drought - in the moderate category - covered less than five percent of the state. Areas in moderate drought had been present in Colorado September 2017, with severe drought making its first appearance in January 2018.
Records dating back to January 2000 show that Colorado has never been free from drought and abnormally dry conditions. Last week was close when only 0.01 percent of the state was abnormally dry. Prior to that, drought-conditions reach above 99 percent several times in 2000 and 2001. Two weeks in July and August 2009 also exceeded 99 percent, a level not seen again until last week.
Available water in Colorado's snowpack remains extremely strong for this time of year. Statewide, the snow water equivalent - which is the measure of available water in the snow as it melts - stood at 437 per of the median as of May 31. The San Miguel, Dolores, Animas and San Juan basin in formerly drought-plagued southwest Colorado was at 768 percent of the median.
Snow water equivalent does not measure the depth of the snow. Instead it shows the amount of water expected to be released as the snow melts. For the southwest basin, there is more than seven times the amount of water in the remaining snowpack versus a typical year.
Severe drought was eliminated in New Mexico last week, marking the first time in the history of the United States Drought Monitor that the continental U.S. had been free from severe, extreme, and exceptional drought. At the same time extreme drought made its first-ever appearance in Alaska.