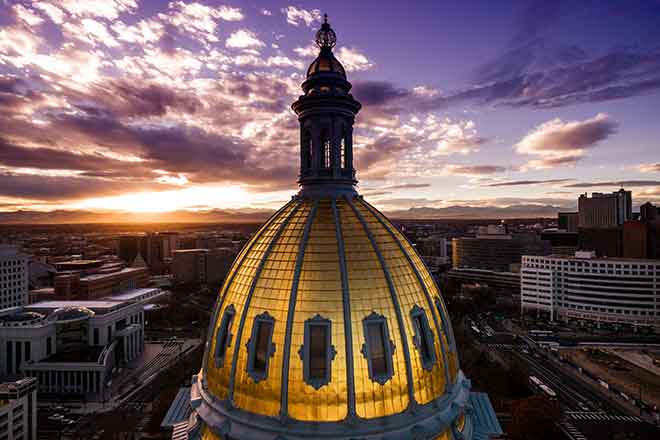 Published
Tuesday, July 27, 2021
(The Center Square) - Denver Mayor Michael Hancock touted the city's recovery in his State of the City address on Monday and laid out plans to "turn the challenges of last year into opportunities for the future."
Employment initiatives, infrastructure funding plans, crime prevention, and ways to address homelessness were among topics the mayor highlighted in his address.
"Now is not the time to think small," Hancock said. "It is the time for bold action."
Hancock said he's submitting a $450 million bond package to Denver City Council in the coming weeks, which he said will help "sustain" the city's recovery. The package will create an estimated 7,500 jobs supporting nearly $1 billion in additional economic activity, he said.
He also highlighted the ongoing work in the Great Hall at Denver International Airport (DEN), which he called "the engine of Colorado's economy." The project is adding an additional 39 gates to the airport and is scheduled to be completed in 2024.
The mayor's office is also creating a workforce training program at Red Rocks, Hancock said. The six-week course will offer pre-apprenticeship training programs and teach participants about ecological preservation.
Hancock said his administration is working to increase business opportunities for entrepreneurs. He announced that he has instructed the Department of Economic Development to realign some sales taxes from marijuana sales to create a revolving loan fund that will support the growth of minority-owned cannabis businesses.
City Council President Stacie Gilmore, District 11, will sponsor the ordinance.
"We have to find a way to get people back to work. Not just at another job, but in a career," Hancock said.
Hancock's office will dedicate another $500,000 to increasing vaccine distribution in low-vaccination areas, and deposit $28 million from federal American Rescue Plan funds into the city's Affordable Housing Trust Fund, which supports housing development projects.
To address homelessness, Hancock said his office is expanding its housing voucher program, temporary safe outdoor space pilot, and is creating a "safe parking space" for people experiencing vehicular homelessness to sleep.
Hancock also called on the federal government to increase its assistance to cities addressing homelessness, calling it a "moral, social, and economic imperative."