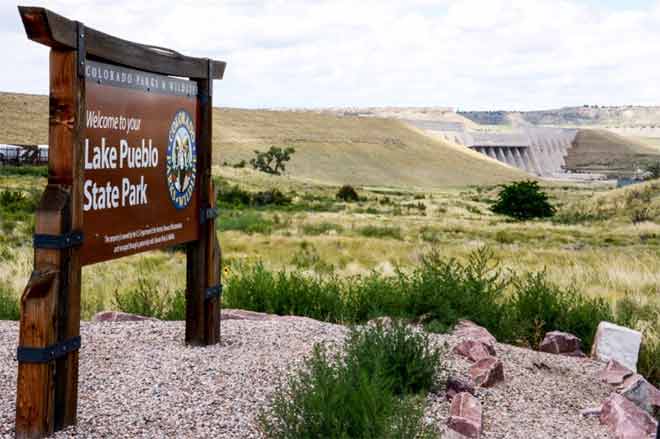 Published
Friday, February 21, 2020
Due to sharply rising water levels, the staff of Lake Pueblo State Park will be forced to close indefinitely the South Marina boat ramp beginning this weekend.
This means any boater wanting to enter or exit the water must use the park's North Ramp, which remains open for now. Park staff is closely monitoring water levels at the North Ramp, which has never closed for high water in past years.
"Longtime fans of Lake Pueblo State Park know this tends to happen in wet years and when there is heavy snowpack in the mountains," said Monique Mullis, park manager for Colorado Parks and Wildlife. "We went through this in 2015, 2016 and 2018. And we've been anticipating it again this spring. When the water levels recently jumped a foot in five days, we knew this was inevitable."
The ramp closing is not the only impact. Already, park staff was forced to close vehicular access to South Fishing, Bogg's Creek, North Picnic and N-1 Cove day-use areas. The lower gate to the sailboard day-use area is closed and the main lot may be closed if a retaining wall is breached.
Kettle Creek Campground, scheduled to open in May, is being monitored closely.
Park officials are hopeful the situation will improve after April 1 when the U.S. Bureau of Reclamation starts releasing winter water storage. Another noticeable draw-down will occur by April 15 when the water level will be at the elevation of 4880 feet, the top of the conservation pool. At this elevation, many of the shore access points are open again, but with very limited space for parking.
Lake Pueblo State Park officials expect access to the South Marina boat ramp will resume in early to mid-April.
Colorado Parks and Wildlife manages Lake Pueblo State Park on property owned by the Bureau of Reclamation. The bureau built Lake Pueblo in 1970-75 as part of the Fryingpan-Arkansas water diversion, storage and delivery project. It provides West Slope water to upwards of 1 million Front Range residents, primarily in southeastern Colorado, as well as agricultural irrigation