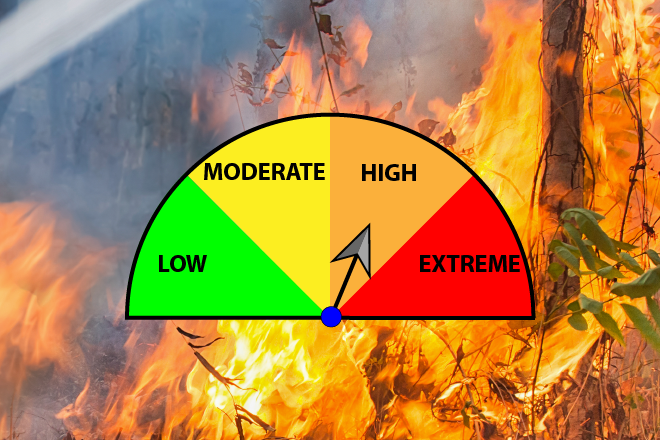 Published
Friday, March 3, 2023
Warm and dry conditions are expected to return across most of southeast Colorado Sunday, leading to increased fire risk.
Monday and Tuesday, similar conditions resulted in red flag warnings across the same area, though no significant fires were reported.
The National Weather Service office in Pueblo has issued a fire weather watch for Sunday covering all or parts of 13 southeast counties. Included in the watch are El Paso, Elbert, Lincoln, Cheyenne, Kiowa, Crowley, Pueblo, Huerfano, Las Animas, Otero, Bent, Prowers, and Baca counties.
The watch also extends into northeast New Mexico, northwest Texas, the Oklahoma panhandle, and western Kansas counties.
The forecast currently calls for wind gusts as high as 65 miles per hour and relative humidity falling into the single digits. Sunday's high temperatures are predicted to be in the mid- to upper 60s for the eastern plain, and a few degrees cooler closer to the mountains.
Drought conditions continue to plague eastern Colorado, with much of the eastern half of the state at least in moderate drought. Severe, extreme, and exceptional drought stretches from southeast Cheyenne County to southeast Las Animas County. Far southeast Baca County is in exceptional drought, the worst category on the scale.
With the official start of spring still a few weeks away, chances of snow return Tuesday and Wednesday, and high temperatures are expected to drop back to the 30s.
A fire weather watch mean the critical fire weather conditions are forecast to occur. Such watches typically convert in red flag warnings for the watch area.