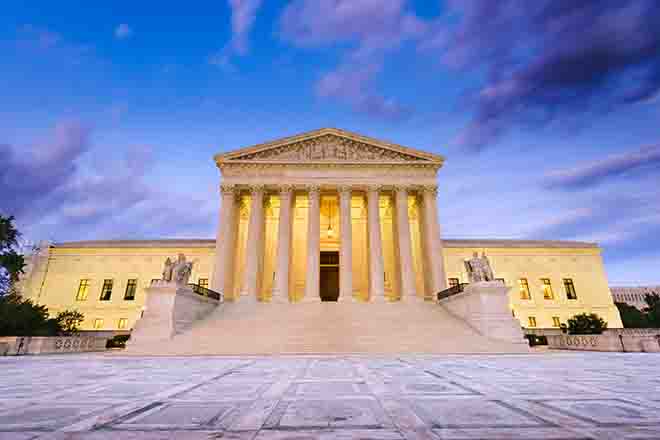 Published
Wednesday, May 24, 2023
(The Center Square) - The U.S. Supreme Court last week effectively dismissed a lawsuit filed by a coalition of Republican attorneys general, who argued the public health authority Title 42 should remain in place. Attached to the court's one-sentence decision, Justice Neil Gorsuch issued a seven-page blistering rebuke of federal, state and local coronavirus-era lockdown policies, arguing they were the "greatest intrusions on civil liberties in the peacetime history of this country."
In March 2020, former President Donald Trump declared a state of emergency as COVID-19 spread, and subsequently implemented Title 42. When President Joe Biden ended the state of emergency, Title 42 ended with it May 11. Title 42 helped Border Patrol agents quickly process for removal foreign nationals from some countries who entered the U.S. illegally.
With the anticipation of Title 42's end, more people entered the southern border illegally than the populations of six states. At the same time, the Biden administration continued to argue in multiple lawsuits that vaccine mandates should remain in place.
The Supreme Court last Thursday issued a one-sentence decision ending over two years of Title 42-related litigation stating, "The December 16, 2022 order of the United States Court of Appeals for the District of Columbia Circuit denying petitioners' motion to intervene is vacated, and the case is remanded to that court with instructions to dismiss the motion as moot."
The lawsuit originated in January 2021, when a group of foreign nationals who illegally entered the U.S. sued the Biden administration, arguing they couldn't be expelled under Title 42. In May 2022, a U.S. District Court in Louisiana ruled against them and issued a nationwide injunction requiring Title 42 to remain in place. By November 2022, a U.S. district court in Washington, D.C., ruled the opposite way.
The case went to the U.S. Court of Appeals for the District of Columbia, and then to the U.S. Supreme Court. In December 2022, the Supreme Court ruled in favor of the AGs and Title 42 remained in place. Five months later, the public emergency and Title 42 officially ended and the court then removed the case from its calendar and instructed the lower court to dismiss it as moot.
Justice Neil Gorsuch summarized the two years of litigation in a seven-page blistering rebuke against COVID-era mandates, arguing they weren't really about the coronavirus. When the Supreme Court ruled to keep Title 42 in place, he dissented, he said, because "the current border crisis is not a COVID crisis."
In his rebuke released last week, Gorsuch said, "the Court took a serious misstep when it effectively allowed nonparties to this case to manipulate our docket to prolong an emergency decree designed for one crisis in order to address an entirely different one" and the court's dismissal "goes some way to correcting that error."
He also said, "the history of this case illustrates the disruption we have experienced over the last three years in how our laws are made and our freedoms observed.
"Executive officials across the country issued emergency decrees on a breathtaking scale," he continued. "Governors and local leaders imposed lockdown orders forcing people to remain in their homes. They shuttered businesses and schools, public and private. They closed churches even as they allowed casinos and other favored businesses to carry on," he wrote, noting that violators were threatened with civil penalties and criminal sanctions.
He cited officials in Kentucky, California and Florida, who targeted churches and people of faith who wouldn't comply with lockdown policies, saying they "surveilled church parking lots, recorded license plates, and issued notices warning that attendance at even outdoor services satisfying all state social-distancing and hygiene requirements could amount to criminal conduct.
"They divided cities and neighborhoods into color-coded zones, forced individuals to fight for their freedoms in court on emergency timetables, and then changed their color-coded schemes when defeat in court seemed imminent," referring to California and New York lockdowns that violated the First Amendment rights of faith-based organizations, which the court ruled was unconstitutional.
He also pointed to the CDC regulating "landlord-tenant relations nationwide," which the court ruled was unconstitutional, and the federal government using "a workplace-safety agency to issue a vaccination mandate for most working Americans," which the court in part ruled was unconstitutional.
Gorsuch also referred to federal vaccine mandates that "threatened to fire noncompliant employees" and the DOD vaccine mandate that "warned that service members who refused to vaccinate might face dishonorable discharge and confinement," which lower courts have ruled were unconstitutional.
He also referred to federal officials who "may have pressured social-media companies to suppress information about pandemic policies with which they disagreed," prompting Congress to launch an investigation.
The result of lockdown policies, Gorsuch argued, may amount to "the greatest intrusions on civil liberties in the peacetime history of this country."
With the number of declared emergencies having "only grown in the ensuing years," he said he hoped state legislatures would "reexamine the proper scope of emergency executive powers" and the judiciary not "allow itself to be part of the problem by permitting litigants to manipulate our docket to perpetuate a decree designed for one emergency to address another."
"Make no mistake," he concluded, "decisive executive action is sometimes necessary and appropriate. But if emergency decrees promise to solve some problems, they threaten to generate others. And rule by indefinite emergency edict risks leaving all of us with a shell of a democracy and civil liberties just as hollow."