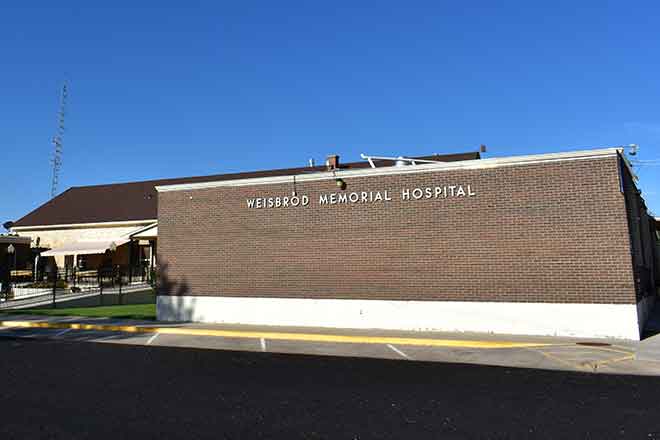 Published
Saturday, April 24, 2021
RECORD OF PROCEEDINGS
BOARD MEETING - February 23, 2021
The Kiowa County Hospital District and County Board met in regular session on February 23, 2021 at 6:33 p.m. at Cobblestone Inn Meeting Room and via Zoom.
District Board members present were: Mary Eikner, Sylvia Shields, Craig Kerfoot and Meghan Buck. Absent: Cathryn Anderson (called).
County Board members present were: Ken Flory, Kevin Davis, Claire Prince and Dale Back. Others present: Shannon Dixon, Char Korrell, Ellen Lane, Dawn Back and Renay Crain.
CALL TO ORDER
The meeting was called to order by Sylvia Shields, Chairman of the Board at 6:33 pm.
COUNTY VOTING MEMBER SELECTION
Kevin Davis, Ken Flory, and Claire Prince.
APPROVAL OF MINUTES
A motion was made by Ken Flory to approve the January 26, 2021 minutes as presented. Motion seconded by Craig Kerfoot. All aye.
APPROVAL OF AGENDA
A motion was made by Kevin Davis to approve the agenda as presented. Motion seconded by Ken Flory. All aye.
PUBLIC COMMENT
No one was present for public comment.
CREDENTIALING
Dr. Craig Shapiro, Dr. David Maurer, Rick Hammack, Dr. Emily Rand, and Dr. Nathaniel Chapelle were approved for privileges by Med Staff. A motion was made by Craig Kerfoot to approve all credentialing as presented above and seconded by Ken Flory. All aye.
POLICIES & PROCEDURES
The Board reviewed and discussed the summary of policy and procedure revisions regarding urinary catheters and compliance and ethics. All policies were reviewed by the Policy Committee and approved by Med Staff. A motion was made by Ken Flory to approve all policies as discussed and seconded by Craig Kerfoot. All aye.
STANDING REPORTS
CEO
We had a heating issue with the boiler and lines froze. Tolin came as soon as possible to fix these issues. We evacuated the patients to Prairie Pines on Tuesday. HVAC was repaired and Life Safety came to inspect us. We moved patients back on Friday. Our staff went with patients and we continued to provide their meals. We did the laundry and provided supplies. Emergency Management helped find us volunteers to move beds and patients. We did a hot wash afterwards and will review to see what changes or suggestions there were for next time. We will be working on our alert system to notify us sooner when we have a heating/cooling issue. We would like to commend staff and volunteers for a great job.
We completed an inhouse 340B audit for 4th quarter 2020 and January 2021. We will begin doing monthly audits instead of quarterly. We are still waiting to hear on the HRSA 340B audit.
Mammography was suggested last month. Char did some research and talked to a few radiology people and it may be too difficult to keep up certifications to do mammography. We will continue to research.
Public Option is continuing to be a project that we are working on.
Each EPHC partner will put aside $10,000 of Rural Support Funds towards a data analysis person that we can share.
CFO
The January financials were reviewed and showed a profit for the month. In January, days cash on hand was 192 and days in AR was 89. We had a net income of$121,670.46. We are working on the audit and cost report.
The Board reviewed a full-time equivalent report pertaining to staffing in each department.
CNO
The action plan for the EMT ALA survey was reviewed. Education and training will be provided. We will be tracking data to make sure all necessary documents are completed. We are still waiting to hear from CMS.
HOSPITAL QUALITY & SAFETY
The Quality Report Scorecard was reviewed. Various measures including infection rate, medication errors, and falls were reviewed by the Board.
OLD BUSINESS
DEPARTMENT OF LOCAL AFFAIRS (DOLA) GRANT UPDATE
The north roof should be finished as soon as weather permits. Tolin is finishing up the HV AC issues.
COVID-19 UPDATE
We have 402 doses of COVID vaccine. We have fully vaccinated 180 people. The clinic has been approved to give the COVID vaccine. We have educated our staff on the benefits of the vaccine. We are in the blue category now. We continue to meet with Public Health and Emergency Management once a month.
HOSPITAL/ AMBULANCE AGREEMENT
We are waiting for the approved Ambulance Agreement. The County is waiting on their billing numbers, so date of transition will be April 1, 2021.
NEW BUSINESS
HHS FUNDS
A list of items was presented to the board for approval to purchase with HHS funds. These items need to be purchased before June 30, 2021. We have consulted with our auditors and cost report preparers regarding our list of items. Whatever funds are left by June 30, we will have to pay back to HHS. A motion was made to approve the purchase of the items listed by Craig Kerfoot and Kevin Davis seconded the motion. All aye.
ADJOURNMENT
The meeting was adjourned at 7:40 pm.
Respectfully submitted,
Kiowa County Hospital District Board Mary Eikner, Secretary-Treasurer