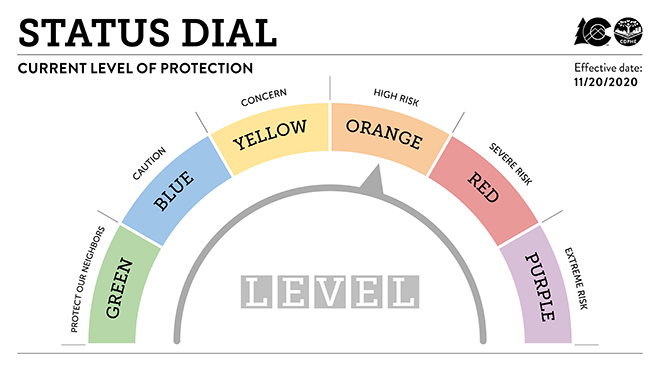 Published
Monday, January 4, 2021
Effective Monday, January 4, 2021, Kiowa County will be moved to Orange on the COVID-19 dial. The dial and specifics can be found at http://covid19.colorado.gov.
What changes will be most noticeable?
PERSONAL GATHERINGS: Up to 10 people from no more than 2 households
RESTAURANTS: INDOOR DINING IS BACK! 25% capacity or 50 people, whichever is few-er, with last call 10:00 p.m.
GYMS/FITNESS: 25% capacity or 25 people indoors, whichever is fewer
INDOOR EVENTS/ENTERTAINMENT (Bowling Alley/Movie Theater): 25% or 50 people, whichever is fewer
This is fantastic news for our economy, but continue to social distance, wash your hands, wear your face covering, limit gatherings and stay home when you are sick.
VACCINE: The Tiers have been expanded to include those over the age of 70. We are holding regular clinics. Watch for updates as we move through the priority list as vaccine is received. You may be placed on a waitlist as we do not want to waste a single dose and have to use each vial within a short timeframe. We will continue to put the word out as vaccine arrives. Thank you for your patience!
Colorado Department of Public Health and Environment (CDPHE) has with further information at http://covid19.colorado.gov/vaccine.