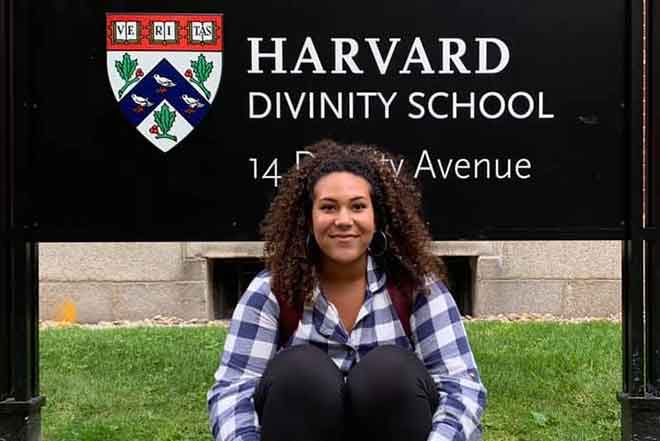 Published
Sunday, March 8, 2020
Editor's note: Eboni Nash is a graduate of Eads High School and Hastings College in Nebraska, where she majored in psychology, religion and sociology. She now attends Harvard University in Massachusetts. Eboni writes periodically for the Kiowa County Press.
It is 3:00 am Eastern Time. The city is quiet. Lights are off and the streets are empty. Friends and family back home in Colorado are steady asleep, occasionally catching a ride home from the local bar. I am wide awake and usually making my morning breakfast at this time. Each morning, I open the local gym that is only a short ten-minute walk from my apartment. My routine is simple. I wake up, get ready, make breakfast, and head out the door. Each morning I send a quote or funny picture to my boss to let her know I am awake and heading to the gym.
This particular morning was different. I was walking to work like always, enjoying the empty streets and cold morning air. Occasionally I watch Netflix on my walk, but this morning, I was listening to a Spanish podcast to brush up on my languages. There is hardly a reason to stop at intersections at this time of the morning, so my walk tends to be very short. As I was approaching my final intersection, I noticed somebody walking on the opposite side of the street.
It is unusual at this time of the morning to see anybody awake and walking unless they are heading to the gym. The man appeared to be swerving in his steps, off balanced, and disoriented. I removed one side of my headphones from my ears and began to pay a little more attention. As I crossed the street to the same side as this strange man, he noticed me. He turned around and started walking in the same direction as me.
The gym was within my eyesight and that is all I could look toward at this time. Thoughts were rushing through my head, constantly wondering why he was walking after me. I heard his footsteps become closer and realized I needed to speed it up. As I walked faster and faster, the scariest and most unsettling thought appeared in my head. I thought, "I hope this man does not attack me, because then I won't be able to open the gym on time." I am still ashamed to this very day to have thought such a thing.
Why, during my fight or flight stage, was I worried about the efficiency of my job? Why was my workspace more prioritized than my own safety? I should have been channeling all the self-defense my mother had taught me. My hand should have been ready to call 911, and to run to the nearest open door. But instead, I was worried about my job.
This mindset is unsettling. To unconsciously view myself as a commodity of labor. I feel ashamed for the lack of self-love I had for myself at that moment. I am even more so concerned with how many other people have felt and thought this way. How many victims try to avoid confrontation in the sake of their income or job?
The man ended up following me into the gym. Although I was able to get inside and lock the doors while I prepped the gym for opening, he was still in the front lobby. As I opened the gym for the regular business hours, allowed the members inside, the man came inside too. He was obviously under the influence of something and did scare me at the time. I allowed him to sit for a moment to gain his balance, but after five hours, I had to call security to get him to leave.
A situation that was more a learning curve than anything, had taught me the importance of a solid mindset in my self-care journey. Take care of yourself above anything else. A job is a place of employment and cannot dictate what is better for your physical and mental health. Safety before responsibility, especially in this instance.