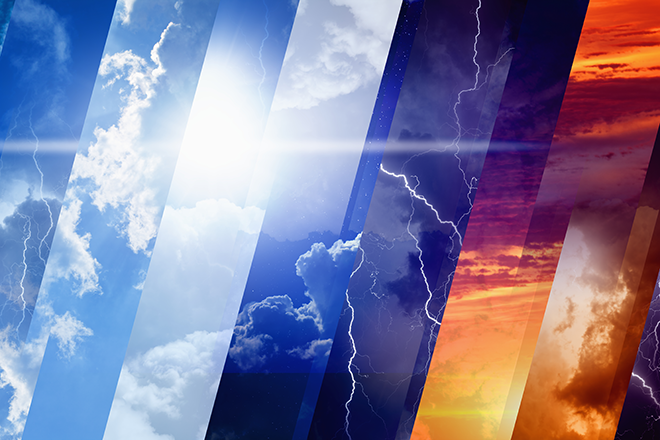 Published
Friday, November 3, 2017
From highs approaching 80 to cooler temperatures with a mix of rain and snow, Colorado will see a range of weather conditions over the coming weekend.
Eastern Plains
Eastern Colorado will see highs in mainly in the 60s Friday, above seasonal averages. Mountain areas may see a little snow while the plains remain dry through the day. Higher elevations should watch increasing wind, particularly for the evening hours.
Saturday will be pleasantly warm - as much as 15 degrees above normal - with highs in the 70s blanketing most of the plains. Springfield may even see 80. Unfortunately, the warm air will also be accompanied by winds that will raise the fire risk for much of the area.
Temperatures drop back mostly into the 60s Sunday and Monday, though Limon will be cooler with highs only reaching into the 50s.
Forecast models diverge heading into Tuesday and Wednesday, with one model hinting at the potential for precipitation while another keeps the area dry. Check back for updates.
West Slope
Chances of rain and some snow will increase through the weekend as a storm system moves across the area. Gusty afternoon winds Friday will be slightly stronger than Thursday, while warm air continues to flow into the area. Friday's highs will be mostly in the 60s, with upper 50s further north.
Saturday will see the start of more widespread rain and snow, though warm air will continue to stream across the area, keeping temperatures around Friday's highs. Northern mountains may start to receive snow accumulation that could last into Thursday. Winter storm alerts haven't been issued yet, though that is likely to change as the weekend progresses.
High temperatures will fall slightly Sunday, and continue to drift downward Monday. As the week progresses, look for highs to fall below seasonal norms.
Weather information updated throughout the day is available at http://KiowaCountyPress.net/weather
Forecast - November 3 - 6

Friday

Saturday

Sunday

Monday

City

High

Low

High

Low

High

Low

High

Low

Eads

59

34

78

40

63

31

60

31

Springfield

63

41

80

47

67

35

67

36

Trinidad

69

48

75

45

66

40

65

38

Limon

63

32

73

35

58

26

56

27

Sterling

58

34

72

35

50

27

51

26

Fort Morgan

63

34

73

36

51

29

55

27

Craig

57

36

56

34

48

31

46

27

Grand Junction

66

44

65

40

60

38

59

35

Montrose

64

45

62

40

56

37

54

34

Cortez

61

41

64

39

58

36

57

34