Image
New CDC guidance: Vaccinated Americans don't need masks outdoors
(The Center Square) – New federal guidance around masks will have Americans breathing easier this summer.
President Joe Biden held a news conference on the North Lawn of the White House Tuesday on the heels of an announcement from the Centers for Disease Control and Prevention that Americans who have been vaccinated no longer need to wear masks outside.
"Earlier today the CDC made an important announcement," Biden told reporters. "Starting today, if you are fully vaccinated and outdoors, not in a big crowd, you can go without a mask. The bottom line is clear. If you're vaccinated, you can do more things more safely, both outdoors as well as indoors."
According to the new guidance, "you can gather indoors with fully vaccinated people without wearing a mask or staying 6 feet apart. You can also gather indoors with unvaccinated people of any age from one other household (for example, visiting with relatives who all live together) without masks or staying 6 feet apart" as long as no one in the group is at high risk of severe illness from the virus.
Image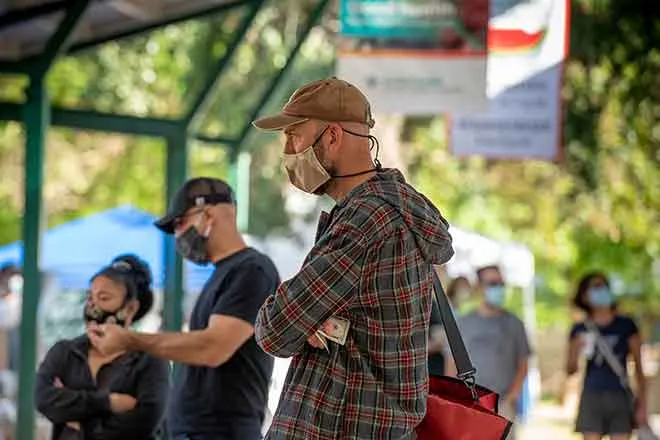 Someone is considered vaccinated two weeks after they have received the vaccine, including the second shot for vaccines that require it.
"COVID-19 vaccines are effective at protecting you from getting sick," the CDC said. "Based on what we know about COVID-19 vaccines, people who have been fully vaccinated can start to do some things that they had stopped doing because of the pandemic."
The guidance also applies to travel, stating that you do not need to be tested before or after traveling or go into quarantine when you return.
For international travel, you will still have to show proof that you have recovered from COVID-19 or a negative test result to fly to the U.S., but you are not expected to self-quarantine after arrival. The CDC still recommends travelers are tested within 3 to 5 days of returning.
The CDC also said that "if you've been around someone who has COVID-19, you do not need to stay away from others or get tested unless you have symptoms," unless you live in a group setting like "a correctional facility … or group home."
The announcement drew strong reaction from critics arguing that Americans should have never been expected to wear masks outside in the first place because of the reduced risk of outdoor transmission.
"Add to the list today's reversal on whether pregnant women can get vaccinated, and the CDC has been nothing more than a Dumpster fire of misinformation," said Rep. Nancy Mace, (R-S.C.), referring to mixed signals from top CDC officials in recent days on whether pregnant women should be vaccinated.
Natalie Johnson, Rep. Mace's communications director, went on to criticize the CDC as a whole, saying "whatever credibility the CDC may have had has been squandered over the last year" and remarking that the agency "has lost the trust of Americans in such a short period of time."
Despite Tuesday's lessened restrictions, the CDC is still urging caution.
"We're still learning how vaccines will affect the spread of COVID-19," the CDC said. "After you've been fully vaccinated against COVID-19, you should keep taking precautions – like wearing a mask, staying 6 feet apart from others, and avoiding crowds and poorly ventilated spaces – in indoor public places until we know more."