Image
Obituary – Chad William Ray
Chad William Ray
January 1, 1972 – October 9, 2021
Chad Ray was born to Richard and Barbara (Passig) Ray January 1, 1972, in Lamar. He primarily grew up in Lamar, but briefly lived in Golden as a young child while his father served in the Colorado State Patrol. 
Growing up, Chad enjoyed art, sports and arcade games. He was a gifted tennis player and was even offered a college tennis scholarship. Chad was known as Opie because of his white-blond hair.
Image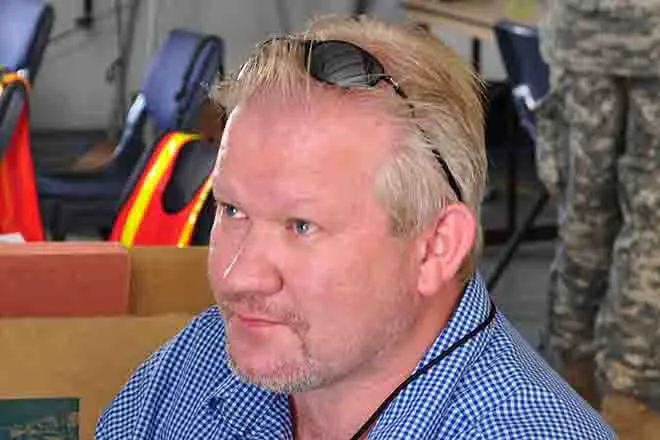 Chad was a man of many talents as he came into his own. He served as a bar owner, a cafe owner, a welder, a butcher, a seafood manager, and more before following his father's footsteps into law enforcement. Chad joined the Kiowa County Sheriff's Office, where he served as the Eads town officer, Kiowa County deputy, and reached the rank of captain. 
It was during his time with the sheriff's office that Chad found his true passion. As part of his duties, Chad also served as the Kiowa County director of emergency management. Chad dived into the field of emergency management and became well-respected, both in Colorado and nationally.
He began working for the State of Colorado in 2005, first as a regional field manager for the southeast region, then as the field services manager, and then as the operations chief, where he was in charge of the State Emergency Operations Center (SEOC).
He was a founding member and Type 2(t) incident commander for the Eastern Colorado Incident Management Team.
Chad was deployed in support of Hurricane Ivan in 2004 and was part of a two-person EMAC team deployed from Colorado to Louisiana in 2005, just as Hurricane Katrina was striking New Orleans. Chad served as the Area Commander during the blizzards of 2006 in southeast Colorado. He managed all-hazard incidents such as the Holly Tornado, Alamosa Salmonella Outbreak, and Ordway Fire.
He was the State EOC manager for the 2008 Democratic National Convention and State EOC Manager and Operations Chief during the 2012 Fire Season. 
Chad was SEOC Manager for the 2013 flooding, which was a presidentially declared disaster for over 18 Counties in Colorado.
This experience led him to become the Colorado Department of Transportation's first director of emergency management. Chad kept CDOT plugged into peer state agencies, local agencies, and federal partners. He helped CDOT gain exposure to non-traditional highway maintenance operations and developed CDOT's ability to support wildland firefighting operations. His efforts helped CDOT create and equip maintenance teams for wildland firefighting and other hazards. 
Chad also had a passion for teaching emergency management and developing leaders. He taught many incident command and incident management classes, and served for many years as one of the incident commanders for the Colorado Wildland Fire and Incident Management Academy.
There is no doubt Chad's work helped save lives, property, and valuable resources.
In addition to his professional accomplishments, Chad loved spending time with his daughters and attending their sporting events, even helping to coach their softball teams. He also enjoyed traveling and rooting on the Broncos and Rockies.
He was preceded in death by his father, Rich.
Chad is survived by his wife Sarah; daughters, Dorian and Hailey; granddaughter, Hunter; mother, Barbara; grandmother, Doris; brother, Neil; half-sister, Laura; half-brother, Tony; and many friends.