Image
Obituary – Mary Ellen Ziegler
Image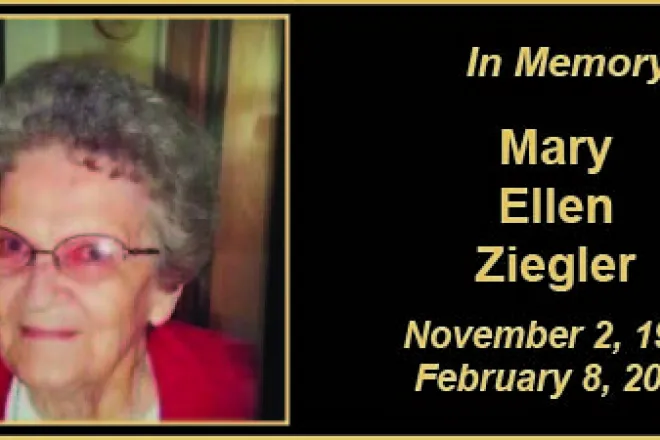 Mary Ellen Ziegler passed from this earthly life to her heavenly home February 7, 2023, at Cheyenne Manor, her home for the past seven years.  She was 97 years of age. 
The oldest of three children, Mary Ellen was born in Belton, Missouri, November 2, 1925, to Gladys Irene (Rowland) Belt and Herbert Caldwell Belt.  She was joined later by two brothers, Edwin and Leroy. 
Her family moved many times, and eventually ended in Colorado.  Mary Ellen was baptized and confirmed in September 1947 at Immanuel Lutheran Church in Bethune, and was united in marriage to Rueben Ziegler January 4, 1947. To this union four children were born: Sandra, Rodney, Jacqueline (Jackie), and Stuart.  
Through time, she was a schoolteacher, an excellent seamstress, an employee of the Cheyenne County Assessor's office, and an active member of the Lutheran Church.  She touched many hearts by her love, courage, and determination.  Her faith in the Lord never wavered. 
Mary Ellen was preceded in death by her parents, brothers, and many loved ones.  
She is survived by her children, Sandra (Larry) Bennett, Rod (Mary) Ziegler, Jackie (Larry) Mahlberg, and Stuart (Amy) Ziegler; and by numerous grandchildren, great grandchildren and great great grandchildren.  
Special recognition to all the caregivers at the Cheyenne Manor who gave from their hearts towards her care.  She cherished each and every one. 
Funeral Services will be held at the Grace Lutheran Church in Cheyenne Wells at 11:00 a.m. Monday, February 13, 2023.  
Burial will follow at 2:00 p.m. at Fairview Cemetery in Burlington.
Memorial contributions may be made in her name to Cheyenne Manor through the Eastern Colorado Bank in Cheyenne Wells.
Arrangements are under the direction of Brown Funeral Home.