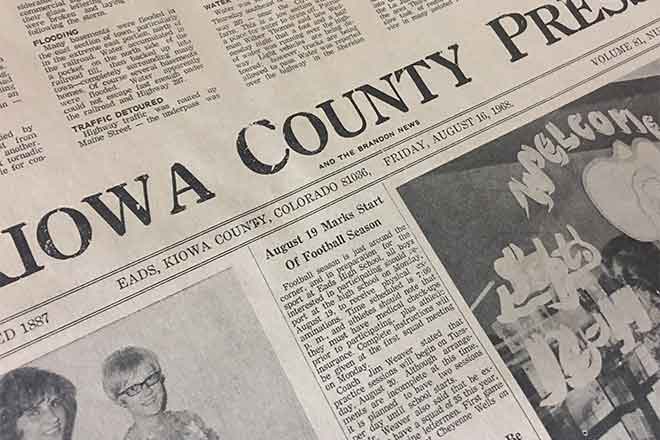 Published
Saturday, December 11, 2021
15 Years Ago
December 15, 2006
D.W. France/Kirschman House -201 E. 12 St- in Eads, was officially certified on the register as a Kiowa County Historic Landmark.
East End Events- Lana & Peggy Weber: The Roll Kansas basketball tournament was definitely a fun tournament to remember, especially the all-nighter until 2:30 a.m.
Wild Horse Roundup- Curtis Schrimp: I thought I would go Kit Carson for Santa Day, act nice and get my name on his list. He sent a sack of candy home for Lee and gave me one.
25 Years Ago
December 13, 1996
Justin Crow placed 5th at the NFL Gatorade Punt, Pass, Kick team championships at halftime of the Denver Broncos game.
Nursing Home News- Nellie Nickert: This week we start thinking seriously about Christmas, digging out decorations, setting the tree up and getting the gifts wrapped.
40 Years Ago
December 11, 1981
Construction is well under way on the new addition of the Kiowa County Abstract Company. When the addition is completed, it will nearly double the size of present facilities.
Senior Citizens News- Ethel Johnson & Rhua Sloan: Work at the Center is going forward at a good rate. An 18 foot opening will be made between the two main rooms. This is good because we are busting at the seams.
Sheridan Lake Ripples- Elise E. White: The farmers fail to see the beauty of piles of dead weeds against buildings and fences when digging out of fence rows to burn and repair their fences.
50 Years Ago
December 10, 1971
Kit Carson News: The "Over 60" card club, held their annual party which started with sandwiches, potato salad and pie, after which all enjoyed playing progressive pitch.
Eads High School placed three players on the Arkansas Valley All-Conference Football team: Tommy LeGrand, Maynard Davis and Ronnie Brooks. Steve Frazee, Rex Weirich, and Tom Richards were named Honorable Mention.