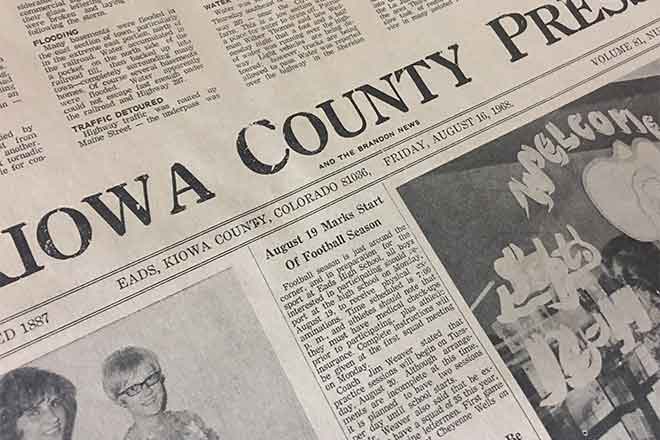 Published
Sunday, April 17, 2022
15 Years Ago
April 13, 2007
Wild Horse Roundup- Curtis Schrimp: Since baseball season has started, I'll mention our days of baseball years ago. There were teams in all of the towns. If your girlfriend didn't want to go to a baseball game on Sunday afternoon, she had to stay home alone.
25 Years Ago
April 11, 1997
Mike Lening of Valley State Bank, was on hand at the Eads Town Board meeting to discuss a proposed drive-up window at the Eads branch.
In an effort to keep the public informed, the Kiowa County Commissioners will publish a monthly summary of their meetings, events, and activities.
40 Years Ago
April 9, 1982
A fire, whipped by high winds, completely destroyed a storage building and its entire contents. The building is owned and located on the Assembly of God property.
A record number of voters turned out in the Eads Town Council Election. A total of 364 were casted out of 499 registered voters.
From the Sheriff's Desk- Floyd Griswould: It appears someone entered Kiowa Drug and removed some drugs from within. We are checking this one further.
50 Years Ago
April 14, 1972
Two escapees from the Pueblo State Hospital were taken into custody in connection with the theft of a truck.
Blaze broke out behind the home of Myrl E. Legg and burned a path seven miles long and half mile wide before volunteers brought it under control.
The average family income was $6,567 in Kiowa County in 1969 compared to $9,555 for the state.