Image
Rain and Snow Continue Saturday, More Expected Next Week
by Chris Sorensen
Southeast Colorado benefitted from a mix of rain and snow Friday, accompanied by areas of dense fog that will continue Saturday ahead of a brief warm up. Unfortunately, amounts of rain and snow have fallen toward the low end of expectations across southeast Colorado overnight.
Image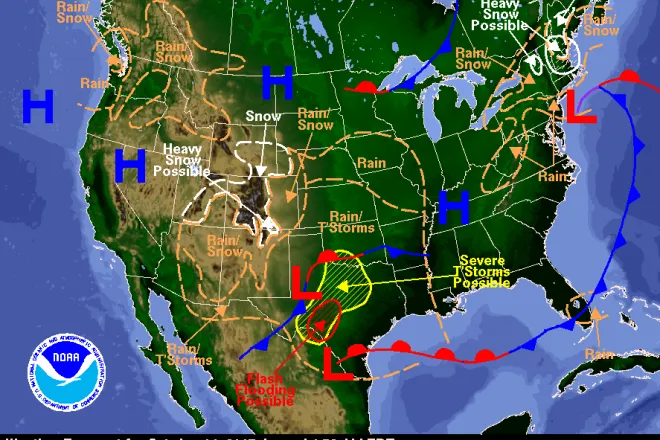 Rain and snow are expected to continue until mid-morning Saturday before changing to periods of rain for the remainder of the day. Patchy fog is expected until early afternoon, returning during the early evening and continuing into the early morning hours. A high in the low 40s is expected, falling to around 30 overnight as the chance of snow decreases. Less than one-tenth inch of precipitation is expected.
Sunday will be mostly sunny, with a high around 60 and an overnight low just above freezing.
Monday's high will increase slightly to the low 60s, with mostly sunny skies returning. Overnight, the low drops to the freezing mark, and a rain/snow mix is possible, though little accumulation is expected.
A rain/snow mix is likely during the morning Tuesday as another Pacific system moves across the region. As the high reaches the mid-40s, rain becomes likely, continuing until late evening. North wind in the 15 to 20 mile-per-hour range is predicted, and will increase to 20 to 25 mph in the afternoon. Gusts to 45 mph are possible.
Overnight, a rain/snow mix returns, changing to snow after 10:00 p.m. North winds continue in the 20 to 25 mph range, and gusts to 45 mph continuing.
Rain and snow are expected to continue until mid-day Wednesday.
KiowaCountyPress.net now offers a free forecast update emailed to you each morning around 6:00 a.m. To begin receiving forecast updates, send an email to kiowacountypressweather+subscribe@googlegroups.com for quick signup process. Then, just reply to the message sent back to you to confirm your email address, and you're done! You'll start receiving the weather forecast the next morning. There's no cost, and you can unsubscribe any time.