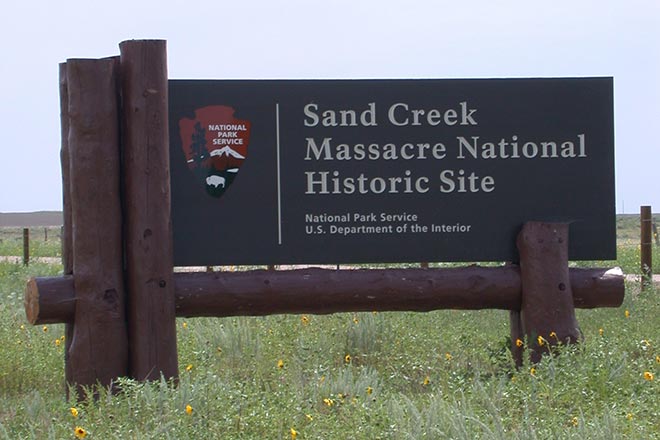 Published
Friday, January 1, 2021
Sand Creek Massacre National Historic Site would like to welcome our newest Lead Park Ranger, Kim Wentland. Kim joined our team in September 2020. Kim was born and raised in Wisconsin and even though she has lived a lot of places, Wisconsin still has a special place in her heart and she's happy to call it her home state. Kim grew up enjoying the outdoors and being surrounded by nature.
Kim graduated from the University of Wisconsin-Madison with a Bachelor of Science degree in 2003. During her last semester of college, she completed an internship at the University's arboretum, and it was there where she realized her passion for environmental education. She decided to turn that passion into a career. After graduating college, she spent a few years in different parts of the US doing environmental education for a variety of non-profit organizations. She then spent 6 years as the Outdoor Education Director for a YMCA in Missouri. Next, she spent 27 months with the Peace Corps in the Philippines working with the local schools doing Coastal Resource Management and Environmental Education. She ended up teaching in 7 different schools throughout her community.
When Kim retuned to the US, she had an opportunity to start working for the National Park Service. She worked at Coronado National Memorial in Hereford, AZ from 2015 to 2020. She started out as a Park Guide and moved into the position of Education Technician. During her time at Coronado NMem, Kim worked very closely with the local communities and schools to educate and provide outreach. After 5 wonderful years in Arizona, Kim decided it was time to work at another park and move to another state. In September 2020, she moved to the eastern plains of Colorado and started working for Sand Creek Massacre National Historic Site. She is looking forward to learning about the rich history of the park, getting to know the local communities, and exploring all that Colorado has to offer.