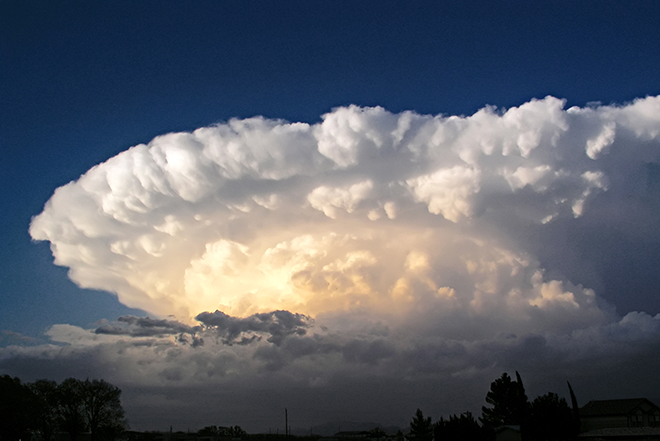 Published
Friday, July 10, 2020
After portions of the High Plains were battered by large hail and isolated instances of damaging winds on Thursday, meteorologists are closely monitoring a more widespread threat that is likely to occur in a similar area on Friday.
While conditions in the Plains will generally be quiet to begin the day on Friday, thunderstorms will begin to erupt in the afternoon as the atmosphere becomes more conducive to promoting storm development.
"Increased moisture, coupled with seasonably warm temperatures, will provide plenty of fuel for feisty thunderstorms," explained AccuWeather Meteorologist Mary Gilbert.
The storms are most likely to develop over northeastern Montana early Friday afternoon before gradually strengthening and expanding in coverage as the more humid air expands eastward. These storms are likely to move eastward into North Dakota and gradually weaken Friday evening.
Toward evening, a second area of thunderstorms is expected to blossom over South Dakota and Nebraska. This area of storms will likely congeal into an organized line of line of thunderstorms and move southeastward overnight. Locations such as Pierre, South Dakota, and North Platte, Nebraska, will be at risk.
"Storms will likely become increasingly better organized as they push southeastward into Friday night. Therefore, there is the potential for damaging wind gusts to impact a wide swath of the nation's midsection," Gilbert said.
There is some question as to just how far south the storms will get. However, there is a possibility that the storms will make it all the way into east-central Kansas by daybreak Saturday.
Regardless of how far storms make it, the threats will be the same throughout the lifespan of the storms.
"Damaging wind gusts and hail will be the main threats with storms that develop on Friday. An AccuWeather Local StormMax(tm) of 80 mph is possible within the strongest storms," Gilbert noted.
However, the possibility of an isolated tornado cannot be completely discounted.