Image
Severe storms, flooding return to eastern Colorado Saturday
Heavy rain and hail from severe thunderstorms, along with the potential for isolated tornados, is predicted to return to eastern Colorado Saturday, adding to the potential for flooding. Soils are saturated from days or weeks of regular rainfall.
The National Weather Service has issued a flood watch for most east central and southeast counties beginning at noon Saturday and continuing 7:00 p.m.
Image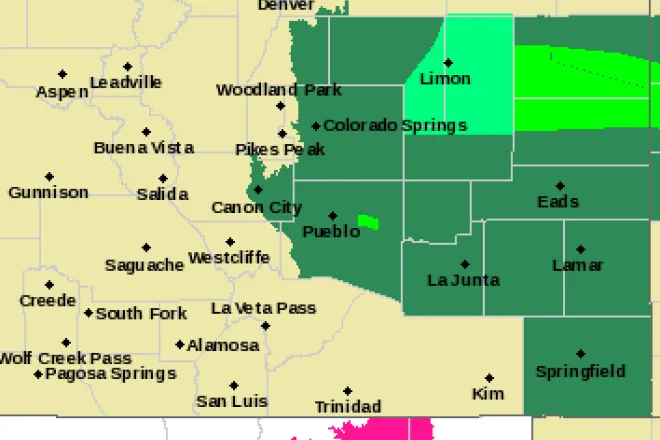 Following heavy rain Friday, southern Kit Carson and northern Cheyenne counties are under a flood warning until at least 11:15 a.m. Saturday. Late Friday, between one and three inches of rain fell in the area, adding to precipitation that has impacted the area over the past week. The NWS says flooding is ongoing. Drivers should be alert to flooded or damaged roads, and should not attempt to cross flooded roads. Most flood deaths occur in vehicles.
Northern Lincoln and eastern Elbert counties are under a flood advisory until 9:30 a.m. Saturday. The NWS reports water over roadways, and some roads are closed. Additional thunderstorms expected Saturday afternoon will increase the risk of flash flooding.
Across southeast Colorado, there is a risk of large hail, damaging winds, and isolated tornadoes, along with the potential for flash flooding.
Storms are expected to begin forming over the San Luis Valley as early as 9:00 a.m. and continue through late afternoon. Eastern plains areas along the southern Interstate 25 corridor can expect storms forming throughout the early to late afternoon hours.
For plains counties closer to the border with Kansas, including Kiowa and Cheyenne counties, storms are predicted by mid-afternoon, continuing into the early evening hours. The greatest risk for two inch or greater hail and isolated tornadoes focuses on Baca, Las Animas, Prowers, Bent, Otero, and Pueblo counties. Multiple tornado warnings were issued in that area Friday evening.
Image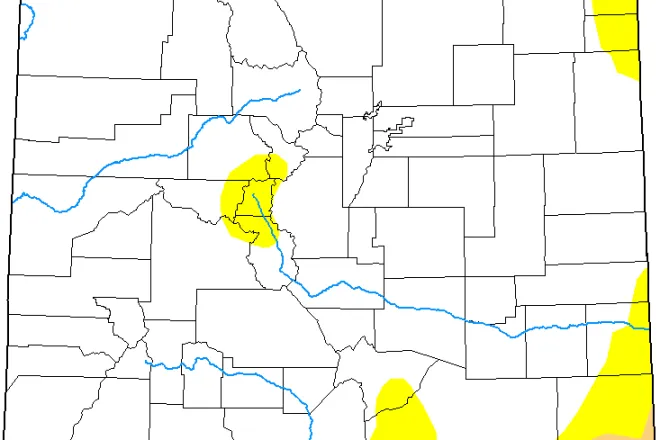 Rain during May and June has significantly improved drought conditions in eastern Colorado. Overall, 93 percent of the state is free from drought conditions. Southern Baca County continues to show a small area moderate drought in this week's report from the National Drought Mitigation Center. One year ago, 82 percent of the state was in some level of drought, with 16 percent of state in extreme or exceptional conditions.