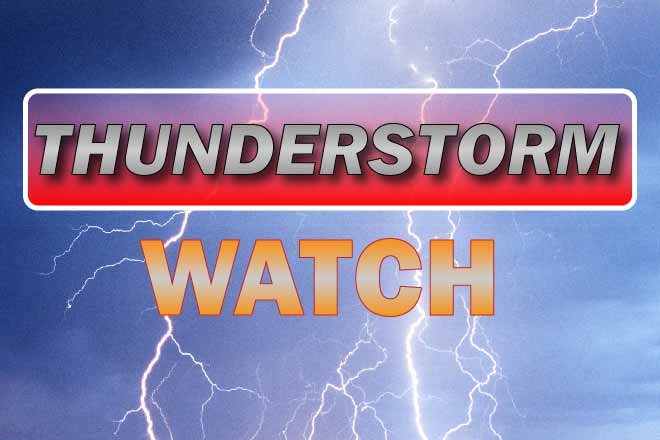 Published
Friday, June 14, 2019
Note: this article was updated as conditions changed. The watch was cancelled at 7:20 p.m.
Severe thunderstorms with potential for quarter-inch hail and wind gusts up to 60 miles per hour are possible across much of Colorado's eastern plains Friday as a cold front moves southeast across the state. The watch also extends in to western Kansas and the Oklahoma panhandle and neighboring northern Texas.
While only a few severe storms were noted by late afternoon, intensity is expected to increase throughout the evening. Shortly before 5:00 p.m., warnings had been issued for areas in Baca, Bent, Prowers and Cheyenne counties. Storms were capable of one-inch hail and wind gusts up to 60 miles per hour.
The National Weather Service has issued a severe thunderstorm watch covering nine eastern Colorado counties. The watch will be in effect until 9:00 p.m. Friday. Large hail, strong winds, heavy rain, and flash flooding are possible where storms develop. Isolated tornadoes are possible during the afternoon for southeast Cheyenne, eastern Kiowa and Prowers, and northeast Baca counties in southeast Colorado. The same area is also at risk for hail larger than two inches in diameter.
By 3:00 p.m., significant weather advisories and weather statements had been issued by the NWS for Las Animas, Pueblo, Baca, Otero, Lincoln and Kit Carson counties for developing storms, which had the potential to produce small hail and wind gusts to 50 mph. A wind gust of 53 mph was recorded in Cheyenne County near Aroya at 3:15 p.m. Less than half an hour later, at 54 mph gust was recorded near the town of Kit Carson. A gust of 57 mph was recorded at Firstview.
The area was under a signficant weather advisory for the potential of producing addition gusts to 50 mph and causing blowing dust as the line of storms moved east into Kansas.
A flash flood watch will be in effect from Saturday afternoon through the evening for parts of central and southeast Colorado. Thunderstorms are expected to form in the area, which could cause flooding from recent fire burn scars. Spring snowmelt has already contributed to high water in many parts of the southern mountains, and the potential for rain adds to the risk.
The NWS issued Friday's first severe thunderstorm warning around 1:15 p.m. That storm was predicted to include large hail and strong winds. The warning expired at 1:40 p.m., just a few minutes before the watch was issued. Storms had been developing at the higher elevations of Colorado's east central mountains earlier in the afternoon.
Thunderstorms could continue into the late evening hours, and are expected to intesify as they move into Kansas.
As of Saturday, November 26, 2022 - 9:48am, KiowaCountyPress.net Live Weather from downtown Eads shows NW wind at 4 mph. The temperature is 40, with 0.00 inches of rain so far today.
The nine eastern Colorado counties under the watch include
Baca
Bent
Cheyenne
Kiowa
Kit Carson
Lincoln
Prowers
Washington
Yuma
Conditions are favorable for the development for severe weather this afternoon and evening. If a warning is issued in your area, be prepared to seek shelter in a sturdy building, preferably an interior room without windows.
Weather conditions updated throughout the day are available at http://weather.KiowaCountyPress.net.