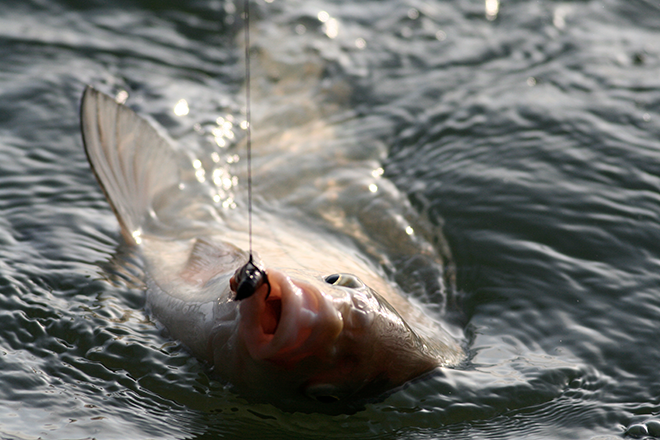 Published
Tuesday, August 9, 2016
Adobe Creek Reservoir
Fishing is fair to good for channel catfish, bullheads, and carp. The lake is lowering for irrigation, but the lake is still fairly high. Both high water boat ramps are usable. The low-water boat ramps are still submerged.
Arkansas River Headwaters
Good rains in the upper basin last weekend added some cool, clear water to the river. As a result, we go into this week with flows near 800 cfs through Bighorn Sheep and Browns Canyon. That, coupled with afternoon cloud cover, is helping to keep the water temperatures cool and the fish active. The aquatic insect activity is thick right now with strong hatches of golden stoneflies, pale morning duns, red quills, blue wing olives, caddis, tricos, and midges. On the terrestrial side, the banks are simply crawling with hoppers, beetles, and ants. Flows will remain at 700 cfs or above for the next week. Then, absent significant additional rain, we should see flows decline by the middle of August to a natural flow of 400 - 500 cfs. Arkansas Headwaters Recreation Area
Clear Creek Reservoir
Trout fishing at Clear Creek Reservoir has been slow from boat and shore. A majority of boat anglers caught very few trout. A few shore anglers reported landing 18 - 23 inch rainbow trout on bait at the northeast part of the reservoir. Boat anglers that caught multiple trout used pink Tasmanian Devil lures and trolled worms with flashers. Boat anglers also had some success with garlic scented PowerBait off the bottom. The kokanee salmon fishing conditions improved from last week, but the fishing overall remains slow. Almost all of the kokanee salmon were caught midday by trolling a Dodger as an attractant with a lure. The tiger muskie fishing has slowed down from last week. The best time to fish for tiger muskie has been during the evening. A few tiger muskie were caught on crank baits resembling a rainbow trout. Midday water surface temperatures averaged around 60 degrees. The reservoir is closed to trailer motorized watercrafts on Tuesdays and Wednesdays. The current boating hours are from 6 a.m. to 8 p.m.
John Martin Reservoir
The reservoir is currently at 139,000 acre feet and the water temperature is around 82 degrees at the surface. We are still seeing small white bass being caught mostly from boats. Anglers are having success using hard baits and soft baits. There are some larger white bass being caught near the trestle. Fishing from the shoreline has slowed, but there are still some white bass and crappie being caught. Fishing at the spillway has slowed with some reports of catfish being caught with better success at dark. There are currently two gates open. Fishing at lake hasty has been slow. John Martin State Park.
Midwestern Farms Pond
Fishing has been rated as slow to good. A few pan fish have been caught during the warmer part of the day and we are seeing a few catfish being caught in the pond and in the river. Tube jigs and crank baits are currently the most productive lures for all species.
North Gateway Park
The fishing is steady but beginning to slow down. Anglers are still catching bass, bluegill, and crappie. Anglers are having success near all of the habitat structures.
Queens Reservoirs
Increased water levels allow for launching of boats from west ramps. The south ramp is completely under water and not accessible at this time. A few anglers have been trying primarily upper and lower queens and have caught a few catfish and some carp. It will probably be next year before the fish to grow to a catchable size. Boaters are urged to use caution as there is floating debris and unmarked obstacles.
Trinidad Lake
The lake is currently at 819 surface acres with a surface water temperature around the low to mid 70 degrees. We are seeing a few trout being caught on PowerBait from shore. Early mornings and later evenings continue to be the most productive. Perch are also being caught from shore in some coves. The catfish are still being caught throughout the lake at night using worms and liver. Boaters are still catching trout, walleye, and perch using jigs tipped with a night crawler or artificial minnow. Some boaters are catching fish trolling with worm harnesses. Trinidad Lake State Park
Twin Lakes
The water level at Twin Lakes is still low, although the runoff is starting to increase water levels. Fishing from boats has been fair for both rainbow trout and lake trout. Fishing from shore is starting to pick up, especially near the power plant. Anglers are reporting lake trout being caught from shore with both sucker meat and PowerBait.
Turquoise Lake
The lake is starting to rise and the increased water levels are increasing boat fishing success. The fishing from shore is really good for both rainbow trout and lake trout. Anglers are catching fish on assorted baits, lures and flies.