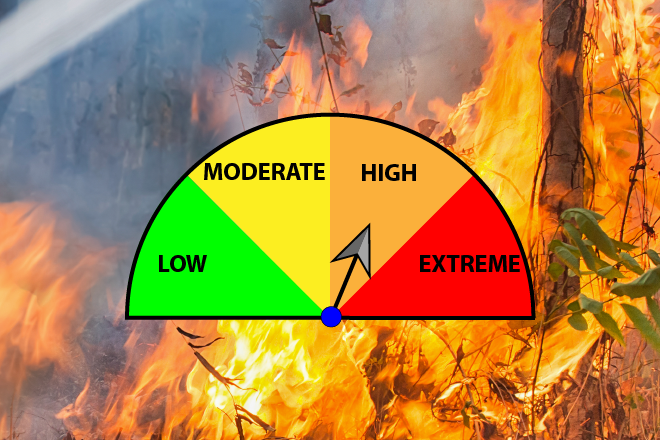 Published
Sunday, March 20, 2022
The National Weather Service has issued red flag warnings for high fire danger covering all or portions of 10 states, including Colorado, for Sunday. Sunday also marks the first day of spring in the norther hemisphere.
In Colorado, temperatures in the 60s and 70s are expected, along with wind gusts to 45 miles per hour and relative humidity falling into the low teens, will create conditions that favor rapid fire growth and spread. Extreme behavior is possible for fires that do start. Outdoor burning and activities that could spark a fire are discouraged.
Counties covered by a red flag warning in Colorado include
Las Animas
Baca
Otero
Bent
Prowers
Kiowa
Cheyenne
Kit Carson
Yuma
Red flag warnings in Colorado are expected to be in effect from 11:00 a.m. until 7:00 p.m. Sunday.
Warnings for fire danger stretch from southeast Arizona to eastern South Dakota. Also included are most of New Mexico, western Texas and Oklahoma, all of Kansas, portions of western Missouri, most of Nebraska, and northwest Iowa.
Monday, snow is expected to return to Colorado, with southern portions of the state in line for up to seven inches of snow, with a rain/snow mix elsewhere in the state.
The NWS has issued a winter storm watch for Baca, Las Animas and Huerfano counties Monday. Portions of Costilla, Pueblo, Custer, and Fremont counties are also included in the watch.
Strong winds are predicted for all the eastern plains counties Monday and Tuesday. Travel may be hazardous both days. 2022