Image
Thunderstorms Return for the Weekend
Seasonal monsoon moisture that has brought heavy rain and thunderstorms to Colorado's eastern plains for the latter half of the week will continue Saturday afternoon, while the west slope continues to see hot and mostly dry conditions.
Eastern Colorado
Storms will continue across the east central and southeast plains, along with portions of the San Luis Valley, during the afternoon. Over the weekend, eastern Cheyenne county can expect up to 1.5 inches, while some areas of Kit Carson county south of Interstate 70 could receive up to two inches of rain. Portions of Kiowa and Prowers counties may receive up to an inch of moisture throughout the weekend.
High temperatures in the low to mid-80s area expect across most of the plains Saturday. La Junta, Eads, Lamar and Springfield will be slightly warmer, as well the northeast corner of the state in the Sterling area.
Image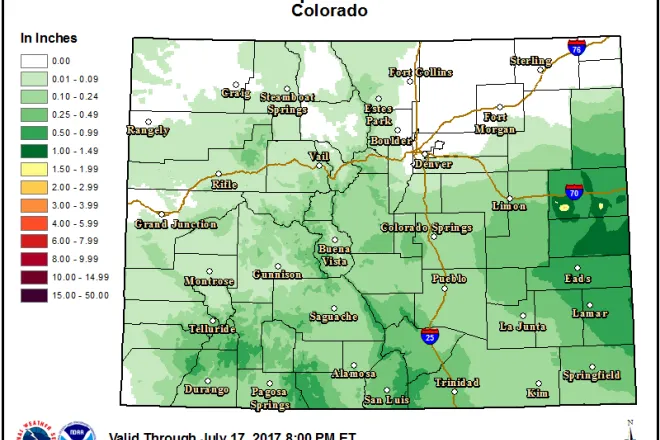 Drier air becomes more common Sunday, though slow-moving storms are still possible. Storms may cause flash flooding, particularly near mountain burn scars. Highs in the 80s will continue.
A high-pressure system begins to take hold for the start of the work week. Drier air, and a pause in the number of afternoon storms across the plains is expected, while mountain areas may continue to see a few afternoon and evening storms. Temperatures in the 90s will return across much of the area throughout the week.
Monsoon moisture is expected to return during the middle of the week, however forecast models disagree about how long it will remain.
Western Colorado
The west slope will continue to bake with above-normal temperatures in the upper 80s to mid-90s Saturday – a pattern expected to repeat through at least the middle of the week. Grand Junction remains the hot spot, but only by a few degrees, as high pressure pushes drier air in from the west. With a bit of moisture left in the atmosphere, some showers and thunderstorms are possible, mainly toward the southwest.
Toward the middle of the week, some monsoon moisture is expected to make an appearance, producing better cloud cover and bringing temperatures down a few degrees. As with eastern Colorado, forecast models diverge for the latter portion of the week into next weekend.
Check back for updates, and bookmark our weather information page, kiowacountypress.net/weather, for updates throughout the day.
Forecast - July 15-18

 

Saturday

Sunday

Monday

Tuesday

City

High

Low

High

Low

High

Low

High

Low

Eads

85

60

85

60

94

63

95

62

Springfield

87

63

85

64

92

65

94

65

Trinidad

80

57

83

59

87

59

88

61

Limon

80

57

83

57

91

58

92

59

Sterling

86

58

90

60

95

62

96

62

Fort Morgan

85

57

89

59

95

62

96

63

Craig

89

53

88

54

87

55

88

55

Grand Junction

96

66

96

66

96

67

95

68

Montrose

88

59

88

59

87

59

87

60

Cortez

89

58

88

58

88

59

87

60