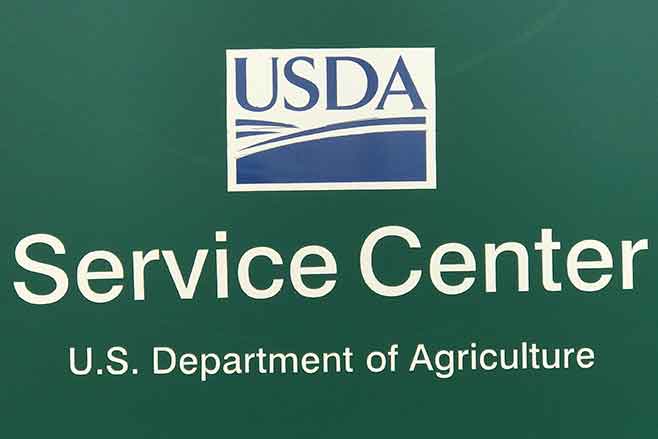 Published
Tuesday, March 15, 2022
IMPORTANT DATES TO REMEMBER
MARCH 11, 2022 - LAND UNDER EXPIRING CONTRACT CAN BE ACCEPTED THROUGH APRIL 1, 2022.
Disclaimer: Information in this UPDATE is pertinent to Kiowa County FSA only. Producers reading this and that do not have FSA interest in Kiowa County are advised to contact their local FSA Office.
THE USDA SERVICE CENTER HAS A DROP BOX AVAILABLE ON THE EAST SIDE OF THE BUILDING.
CRP SIGNUP 58 UPDATE
The office has been extremely busy with CRP signup; there have been producers who have missed their scheduled appointments. We encourage producers to check their email. Producers were sent information two weeks ago with the appointment on the cover letter, if you are unavailable on the date/time please contact the office. Producers also received a letter regarding expiring contract(s). It's the producers responsibility to initiate and submit an offer.
LAND NOT TO BE REOFFERED
Producers who will not be reoffering land in an expiring CRP contract during General CRP signup, please contact the office.
GRASSLANDS CRP
FSA is expecting Grasslands CRP signup to begin April 4th. Producers with expiring CRP contracts can make 'dual' offers for both General CRP and Grasslands CRP. If both offers are accepted the producer will decide which offer to move forward for a CRP contract. The office has not been notified of the rate per acre for Grasslands CRP; offices normally don't receive that information until the first day of signup.
WHIP+ Crop Insurance / NAP Linkage Requirements
If you received a payment under the Wildfires and Hurricanes Indemnity Program+ (WHIP+) or the for crop production and/or quality losses occurring in 2018, 2019, or 2020 crop years, you are required to meet linkage requirements by obtaining federal crop insurance or Non-Insured Crop Disaster Assistance Program (NAP) coverage at the 60/100 level, or higher, for both the 2022 and 2023 crop years.
When applying for WHIP+ or QLA, form FSA-895 (Crop Insurance and/or NAP Coverage Agreement) was submitted acknowledging the requirement to obtain federal crop insurance, if available, or NAP coverage if federal crop insurance is not available. The coverage requirement is applicable to the physical location county of the crop that received WHIP+ benefits.
Producers should not delay contacting their federal crop insurance agent or local county FSA Office to inquire about coverage options, as failure to obtain the applicable coverage by the sales/application closing date will result in the required refund of WHIP+ benefits received on the applicable crop, plus interest.
Signature Policy
Using the correct signature when doing business with FSA can save time and prevent a delay in program benefits.
The following are FSA signature guidelines:
A married woman must sign her given name: Mrs. Mary Doe, not Mrs. John Doe
For a minor, FSA requires the minor's signature and one from the minor's parent
Note, by signing a document with a minor, the parent is liable for actions of the minor and may be liable for refunds, liquidated damages, etc.
When signing on one's behalf the signature must agree with the name typed or printed on the form or be a variation that does not cause the name and signature to be in disagreement. Example - John W. Smith is on the form. The signature may be John W. Smith or J.W. Smith or J. Smith. Or Mary J. Smith may be signed as Mrs. Mary Joe Smith, M.J. Smith, Mary Smith, etc.
FAXED signatures will be accepted for certain forms and other documents provided the acceptable program forms are approved for FAXED signatures. Producers are responsible for the successful transmission and receipt of FAXED information.
Spouses may sign documents on behalf of each other for FSA and CCC programs in which either has an interest, unless written notification denying a spouse this authority has been provided to the county office.
Spouses cannot sign on behalf of each other as an authorized signatory for partnerships, joint ventures, corporations or other similar entities. Likewise, a spouse cannot sign a document on behalf of the other in order to affirm the eligibility of oneself.
Any member of a general partnership can sign on behalf of the general partnership and bind all members unless the Articles of Partnership are more restrictive. Spouses may sign on behalf of each other's individual interest in a partnership, unless notification denying a spouse that authority is provided to the county office. Acceptable signatures for general partnerships, joint ventures, corporations, estates, and trusts must consist of an indicator "by" or "for" the individual's name, individual's name and capacity, or individual's name, capacity, and name of entity.
For additional clarification on proper signatures contact your local FSA office.

KIOWA COUNTY FARM SERVICE AGENCY COUNTY COMMITTEE
Sean Harkness - LAA 1 - East area - Committee Chairperson
Destiny Haase - LAA 2 - Central area - Committee Vice-Chairperson
Michael Zimmerman - LAA 3 - West area - Committee Regular Member
USDA SERVICE CENTER CONTACT INFORMATION
409 E Lowell Ave.
PO Box 188 - Eads, CO 81036
Telephone 719-438-5851 FSA (Ext 2), NRCS (Ext 3). FSA Fax number: fax2mail 844-332-7501
FSA - Farm Service Agency
NRCS - Natural Resource Conservation Service
KIOWA COUNTY FARM LOAN CONTACT INFO - CALL FOR AN APPOINTMENT
Telephone 719-336-3437 (ext2)
SERVICE CENTER OFFICE HOURS:
Monday through Friday - 8:00 a.m. to 4:30 p.m.
RECEIVE USDA INFORMATION
Visit website www.Farmers.gov for up-to-date information for FSA/NRCS programs.
Receive text messages - Text COKiowa to FSANow (372-669) to subscribe.
Not currently available in Colorado.
Subscribe to GovDelivery emails: Visit www.fsa.usda.gov/subscribe or contact your local FSA Office.
For information on programs visit our website located at www.fsa.usda.gov or like us on Facebook or follow us on Twitter. USDA is an equal opportunity employer.