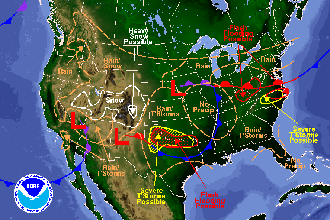 Published
Thursday, April 28, 2016
An upper low pressure system will be lifting into the Four Corners area tonight bringing heavy snow to the mountains and rain across the eastern plains of Colorado.
Mountain areas could see up to two feet of snow, while 1-2 inches of rain is expected across Kiowa County overnight Thursday into the evening Friday. Baca and Las Animas Counties could see supercell thunderstorms Thursday afternoon. The potential for isolated showers continues through Monday evening before a drying trend starts Tuesday.
Mountain travel may be hazardous, and there is a potential for flooding as soils become saturated at lower elevations.
In Kiowa County, temperatures will be in the upper 40s to mid-50s through Monday. Overnight lows will be in the 30s.
Winds will be out of the east at 15-20 miles per hour, with gusts to 30 mph Thursday night through Friday. Speeds will drop to 10-15 mph across the weekend.