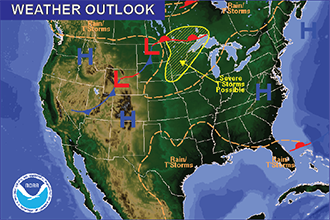 Published
Sunday, June 19, 2016
By Chris Sorensen
High pressure continues to dominate across Colorado. Hot days are expected this week, with near-record temperatures Sunday. Smoke from fires may limit warming, but only by a few degrees.
Kiowa County can expect high temperatures in the mid- to upper 90s through Saturday, slightly above seasonal norms. Overnight lows will be in the mid-60s.
Very little chance of precipitation is currently in the forecast. A ten percent chance of showers and thunderstorms is expected Wednesday and Thursday, increasing to 20 percent each evening.
Winds will generally be out of the south this week in the 10-15 mile per hour range.