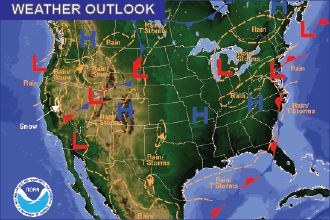 Published
Sunday, October 2, 2016
By Chris Sorensen
Summer temperatures draw to a close this week - at least temporarily - and the first frost of the season may occur later in the week.
Sunday and Monday start off with high temperatures in the low to mid-80s. Monday will also be breezy as an upper level low moves in from southern Idaho. South winds are expected to reach the 15 to 25 mile-per-hour range by the afternoon, and gusts to 30 mph in the evening. The warmer temperatures, low humidity and wind will increase the Monday's fire danger. A Red Flag Warning will be in effect for counties west of Kiowa County, and a Fire Weather Watch will be in place to the north.
Significant cooling begins Tuesday as highs drop to the low to mid-70s for the middle of the week and overnight lows dip to the mid-30s.
Thursday's high will be around 60, with an overnight low around 30. Sensitive plants should be protected or brought indoors to minimize damage.
A warm-up begins Friday, as the high temperature returns to around 70, and continues to rebound Saturday to the upper 70s.