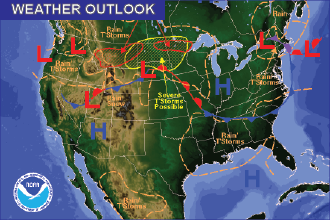 Published
Sunday, July 10, 2016
By Chris Sorensen
After a chance of isolated thunderstorms Sunday afternoon into the evening, the week will start off hot and dry.
Sunday's high will be near 100. Winds will be out of the south at 15-20 miles per hour by the afternoon, with gusts to 30 mph, as a low pressure system develops in the area.
Severe storms will be possible near the Kansas border later in the day, particularly in Prowers and Baca Counties, where large hail - potentially golf ball-size - may be possible.
Although fire weather alerts are not currently in place for Kiowa and surrounding counties, be alert to the potential for fires to start.
A Red Flag Warning will be in effect from noon until 8:00 p.m. closer to the I-25 corridor, and for much of western Colorado.
Several fires were reported in Colorado Saturday, with the largest burning near Nederland in Boulder County. If your plans include a camping trip this week, remember to be careful with campfires and other sources of ignition.
The week continues with high temperatures in the 90s, and lows around 60. Storms are not expected through most of the week, however a 20 percent chance of showers and thunderstorms returns Thursday afternoon.