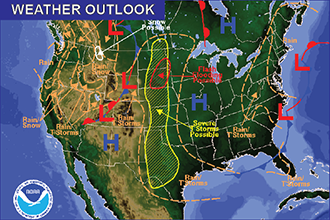 Published
Sunday, May 22, 2016
By Chris Sorensen
Severe thunderstorms will be a possibility for far eastern Kiowa County later in the day Sunday as a dry line sets up in the area.
High temperatures across the county will be in the upper 80s for the day. South winds will increase to 20-25 miles per hour later in the day, and gusts to 35 mph are possible.
Monday cools slightly, with a high in the upper 70s expected, before returning to the mid-80s for Tuesday and Wednesday.
The best chance of precipitation occurs Thursday afternoon into the evening as an upper low moves across Colorado. Storms that occur are currently expected to fall short of severe levels.
Slightly cooler temperatures return to finish the week, with highs in the mid- to upper 70s for Friday and Saturday.
Overnight temperatures will range from the mid-40s to low 50s throughout the forecast period.