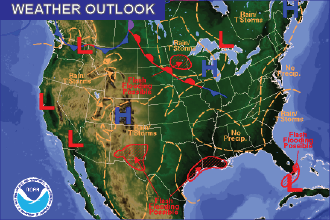 Published
Sunday, August 28, 2016
By Chris Sorensen
Although forecast models have struggled with storm potential for several days, available moisture in the atmosphere continues to offer the chance of thunderstorms at least into the middle of the week, with the greatest potential coming Monday night.
For Kiowa County Sunday, watch for a high temperature near 90 and scattered afternoon and evening thunderstorms.
Storm potential continues daily through Wednesday, with slightly cooler temperatures - mainly in the low 80s.
Upper 80s to low 90s will return Thursday, continuing into the Labor Day weekend. Overnight lows throughout the week will be in the upper 50s to near 60.
Rainfall amounts will generally less than one-tenth inch, however look for one-tenth to one-quarter inch Monday night. Substantially greater amounts can be expected where thunderstorms do occur.