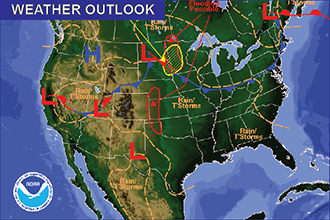 Published
Sunday, June 12, 2016
By Chris Sorensen
UPDATE: The chance of thunderstorms for Sunday afternoon has been increased to 40 percent, and further increases to 50 percent for the late evening up to midnight.
With the official start of summer just over a week away, temperatures mainly in the 90s will close out spring for southern Colorado.
A chance of thunderstorms returns to southeast Colorado Sunday as a front moves into the area, and ramps up to a potential for severe storms Monday into the evening.
Monday's storms could bring large hail - potentially larger than two inches -- and damaging winds in excess of 60 miles per hour. One-tenth to one-quarter inch of rain is expected, however amounts could be significantly higher in areas impacted by storms. Isolated tornadoes are a possibility. The Storm Prediction Center in Norman, Oklahoma, has an enhanced risk for storms across Kiowa County and into northeast Colorado
High temperatures will be in the mid-90s most of the week, though Monday and Tuesday will be "cooler" with highs in the mid- to upper 80s. Overnight lows will be in the upper 50s to low 60s.
An upper level ridge builds over the southwestern US Wednesday, creating warm and dry conditions into next weekend.