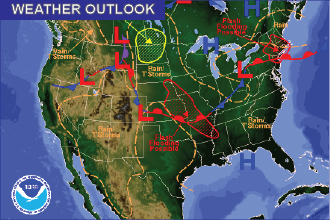 Published
Sunday, July 31, 2016
By Chris Sorensen
With monsoon moisture continuing to enter the area, afternoon and evening thunderstorms will be a possibility throughout the week.
High temperatures will be in the mid- to upper 90s Sunday through Wednesday before falling to the low 90s Thursday, and further dropping to the upper 80s Friday and Saturday.
Overnight lows will be in the mid-60s for Kiowa County.
While the chances of storms are at the lower end of the scale, be prepared for heavy rains that could lead to flash flooding.
Continuing periodic rains have kept drought conditions under control in southeast Colorado, which remains drought-free. A significant portion of southwest Colorado is abnormally dry, with a small area of moderate drought forming along the southern border with New Mexico. Abnormally dry conditions have also continued to expand in north central Colorado.