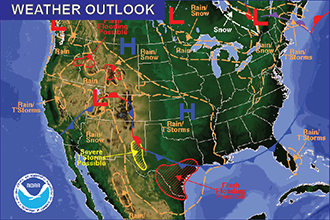 Published
Sunday, May 15, 2016
By Chris Sorensen
An approaching upper level disturbance and adequate moisture in the atmosphere will allow for the development of scattered showers and isolated thunderstorms Sunday afternoon and evening.
Varying chances of rain and thunderstorms remain in the forecast through Thursday, with the best likelihood of precipitation expected Monday afternoon through Tuesday, where one-tenth to one-quarter inch possible each day.
Winds will pick up Sunday afternoon, reaching the 20-25 mile-per-hour range, then decreasing to 10-15 mph after midnight before returning to 20-25 mph Monday. By Tuesday, and continuing through the remainder of the week, wind should reach a maximum of 15 mph.
Daytime temperatures are expected to remain below seasonal norms through Wednesday, with highs in the 50s. Tuesday will be the coolest day, with temperatures struggling to reach the low 50s. A warm up starts Thursday as the high is expected to be near 70, and increasing to the low to mid-80s for Friday and Saturday.
Overnight temperatures will be near seasonal norms throughout the week, with lows in the 40s throughout the week.