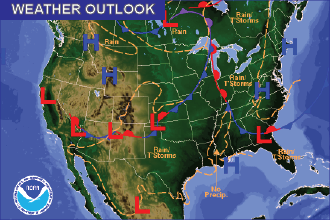 Published
Sunday, June 26, 2016
By Chris Sorensen
A varying chance of showers and thunderstorms continues this week, joined by slightly cooler temperatures as an upper high pressure ridge builds into the area Monday, with a shortwave dropping down across the plains.
High temperatures will be in the upper 80s to around 90 throughout the week, with lows near 60.
Throughout the week, look for possible showers and thunderstorms each afternoon into the evening, with the greatest chance occurring Monday evening into the night. Where rain does occur Monday, one-tenth to one-quarter inch is expected, however higher amounts are possible in areas impacted by thunderstorms.